Join the Peaceful Runner Club!
Are you a member of the Peaceful Runner Club? Find out if you meet the  criteria and qualify to be a peaceful runner.

If you feel you are a peaceful runner, join the Club. It is free and easy to join. Just add your comments below and tell us why you consider yourself to be a peaceful runner.  


What is a Peaceful Runner?
You must meet the following 10 criteria to be a Peaceful Runner. If you are, add your comments below and welcome to the Club!

A Peaceful Runner is someone who....

loves running (most of the time).
strives to enjoy every moment of every run.
is dedicated to making running fun and easy.
does not judge him/herself if they have had a difficult run.
accepts that he/she, others, life and weather conditions are not and never will be perfect.
is committed to becoming a better and more efficient runner.
is committed to caring for his/her body, but does enjoy occasional indulgences.
values his/her fellow runners and supports them by encouraging them, giving advice, being kind or just having a post-run coffee or beer together.
is grateful and happy just because he/she can run.
wants to be able to run long after everyone thinks he/she is too old to run.

Does this sound like you? Great! Join us and add your comments below.
Join the Peaceful Runner Club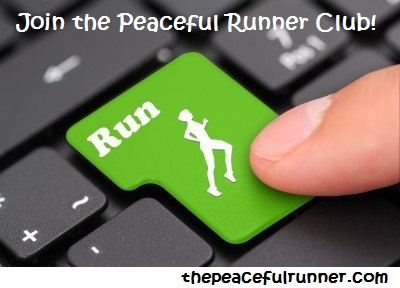 ---
Learn how you can become a more joyous and peaceful injury free runner and Stop Running Pain in 21 Days. This program will teach you how to use the power of your subconscious mind to change limiting beliefs about your body's healing ability, how to stop being a victim of seemingly random running injuries, and how to use the the power within you to run injury free. 

---
Join the Peaceful Runner Club!
Tell us why you are or want to be a Peaceful Runner. Maybe one of the reasons above resonates with you or has special meaning to you. Maybe you have a special reason of your own for wanting to be a Peaceful Runner.

Share your thoughts with us and remember that Club members are automatically entered in our contest giveaways!

If you would like to share your favorite running picture, you can upload that too. We love to see pictures of our Club members! Note: Your picture must be less than 1 MB to be accepted.

Remember to include your email address. It will not be displayed online. You will need to select one of the notification options to add your email address below. You will then receive notification from us when your comment is approved and you are a member of the Club. The notification options appear after you click on the "Submit your comment and join the Club!" button. If you have any questions, feel free to contact us any time.


Read Other Club Members Comments!
Click below to see comments from other members...

FTC Disclosure: As an Amazon Associate, I earn from qualifying  purchases.
Learn more.


Back to Top of Peaceful Runner Club 
Return to Running News
NEW FEATURE - DISQUS COMMENTS!
Be the first to comment.
Login using Facebook, Twitter, Google or Disqus.