Running Injury Free:
5 Unconventional Ways to Enjoy
Pain Free Running
Download your free copy instantly and sign up to receive updates from The Peaceful Runner Newsletter!
Begin your journey to running injury free today!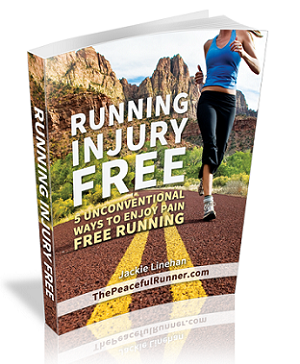 Discover 5 unconventional way of running injury free that you probably never heard of before. Every year 60-80 percent of runners become injured. You don't have to become a statistic.

From Irene, St. John's, Canada:
"Thanks for your wonderful book. I am reading it with great interest. It is so informative and helpful for all runners!"
Use this book to implement steps and strategies to greatly enhance your chances of never having another running injury. Let your journey to becoming an injury free runner begin right now! 
From Xochitl Carrasquedo, New Path Integrated Therapy:
"Thank you so much for your book. It was very enlightening. Even when "running" helps us to be more in contact with ourselves and have more awareness of our body, sometimes we can get lost because we are very concerned about our "timing" or "training goals".
I like that you offer exercises, ideas and tips on how these methods can be done. I will definitely apply them and include them in my program. I enjoyed the Running Mindfully part, and how running if it is taken it to another level (connection body + mind) can be similar and have the similar effects and results as a yoga class. I really enjoyed your book. I agree with your ideas and I definitely learned new ideas as well."
---
---
Other Free E-books When you Subscribe
---
The 100-Up Exercise Guide
The 100-Up Exercise is a simple drill discovered by Walter George in 1874 who set a number of world records in various distances. He discovered the exercise while working as an apprentice with very limited time to train. The drill is designed to both improve running form and speed.

Read more about it here: 100-Up Exercise 
Plus, you will also receive access to the following four eBooks:

17 Ways to Attract Abundance will inspire you as you learn how to attract abundance in whatever form you desire--health, fitness, peace, love, success, or prosperity.
The classic by Robert K. Stevenson, N.D., Backwards Running. It shows you exactly how to incorporate the proper backwards running technique into your training. It explains how to use it to enhance your fitness and improve your mental strength and attitude for a more fulfilling life.
The controversial Ebook, Running Fast and Injury Free by Gordon Pirie. His radical approach to running and training will inspire you to run and train better, while reducing the risk of injury.
The Power of Meditation - "Discover The Power of Meditation And How It Can Work For You To Increase Your Success In Your Personal And Work Life..."




What's in The Peaceful Runner Newsletter?
Each month we'll send you a new issue of our FREE newsletter. It will contain information and tips designed to help you run injury free. We want to help you become a happier, more peaceful injury free runner as you strengthen the mind and body connection and reap all its benefits -- both in running and in life!
Because a happy runner is an injury free runner!
Each issue of The Peaceful Runner Newsletter includes an article to inspire you to run better and happier. You may also find information on our new products as they become available, other running related products or recommendations to help you discover and connect with your inner power and capabilities. Delivered free to your inbox each month!
You can check out all previous issues of The Peaceful Runner Newsletter below.
Subscribe now to get your free eBooks!
Don't worry — your e-mail address is totally secure.
I promise to use it only to send you The Peaceful Runner Newsletter
and you can Unsubscribe at any time.
Are you a Peaceful Runner? Find if you meet our qualifications and join the Peaceful Runner Club. It's free and you may win great prizes.
The Peaceful Runner Newsletter
Back Issues
Below are all back issues of The Peaceful Runner Newsletter, which you can subscribe to here:  Subscribe Now
#108 - October 2019 - Why Do We Experience Running Pain?
#107 - September 2019 - Do You Suffer From Shin Spints?
#106 - August 2019 - Running in Hot Weather
#105 - July 2019 - Mantras for Running are Powerful!
#104 - June 2019 - Cheap Barefoot Running Shoes
#103 - May 2019 - A Quick Fix for that Sluggish Run
#102 - April 2019 - An Inner Body Awareness Technique to Run Injury Free
#101 - March 2019 - Behaviour Kinesiology Can Help Us Become Stronger Runners
#100 - February 2019 - How to Stay Motivated for Running
#99 - December 2018 - Give Yourself the Give of Runners High
#98 - November 2018 - 3 Reasons You Need to Smile While Running
#97 - October 2018 - A Simple Trick to Recover Faster From an Injury
#96 - September 2018 - 5 Unexpected Benefits of Barefoot Running
#95 - August 2018 - A Simple Trick to Run Faster Effortlessly
#94 - July 2018 - Do I Have a Stress Fracture Injury?
#93 - June 2018 - How to Meditate on Running Injuries
#92 - May 2018 - Can Fear Cause Running Injuries?
#91 - April 2018 - Be Tolerant of Weakness While Running
#90 - March 2018 - Radically Transform Running
#89 - February 2018 - I Need Waterproof Running Shoes!
#88 - January 2018 - How to Use Mindfulness to Prevent Running Injuries!
#87 - December 2017 - Happy Holidays!
#86 - November 2017 - Can Running Be A Spiritual Practice?
#85 - October 2017 - Do You Have Runners Knee?
#84 - September 2017 - Do You Suffer from IT Band Syndrome (ITBS)?
#83 - August 2017 - A Mantra for More Peaceful Running
#82 - July 2017 - A Course in Miracles for Runners
#81 - June 2017 - Help for a Plantar Fasciitis Injury
#80 - May 2017 - Why do Affirmations Work for Some and Not for Others?
#79 - April 2017 - Use This Ancient Technique to Improve Your Running
#78 - March 2017 - Why Runners Need to Train for Downhill Running
#77 - February 2017 - Why Hill Training is Essential for Runners
#76 - January 2017 - Quantum Physics and Running Injury Free
#75 - December 2016 - Be Your Own Placebo
#74 - November 2016 - Running is a Mirror of our Lives
#73 - October 2016 - Reiki Healing for Running Injuries
#72 - September 2016 - My "Almost" Running Injury
#71 - August 2016 - Running in the Alpha State of Mind
#70 - July 2016 - My 3 Best Running Form Tips to Make Running Easier
#69 - June 2016 - How to Run Mindfully
#68 - May 2016 - A Loving Kindness Meditation for Runners
#67 - April 2016 - Become a Happy Runner, Become an Injury Free Runner
#66 - March 2016 - Use Your Mind Power to Stay Healthy and Keep Running
#65 - February 2016 - How to Keep Running While on Vacation
#64 - January 2016 - 5 Surprising Benefits of Running in Cold Weather
#63 - December 2015 - Finishing At The Back-of-The-Pack!
#62 - November 2015 - Why Do Runners Get Injured?
#61 - October 2015 - Are You a Good Runner?
#60 - Sept 2015 - 5 Ways the Buteyko Method Can Improve your Running & Health
#59 - August 2015 - A Solution for Overdressing For Running
#58 - July 2015 - Make Pain Your Friend!
#57 - June 2015 - Do You Have Limiting Beliefs About Your Body?
#56 - May 2015 - Do You Forefoot Strike While Walking?
#55 - April 2015 - Do You Know ALL the Advantages of Barefoot Running?
#54 - March 2015 - Can You Improve Running Performance By Dressing Too Warm?
#53 - February 2015 - 5 Reasons Why Runners Need to Meditate
#52 - January 2015 - How to Eliminate Stretching After Running
#51 - December 2014 - How You Breathe While Running Could be Causing Injuries
#50 - November 2014 - 4 Health Benefits of Running That You Don't Already Know
#49 - October 2014 - Do You Listen to Music While Running?
#48 - September  2014 - How to Make Running Easier
#47 - August  2014 - Has Running Changed You?
#46 - July 2014 - How Do You Deal With Running Pain?
#45 - June 2014 - Is Running Solo Better?
#44 - May 2014 - Being Grateful and A Gift for You
#43 - April 2014 - Prevent Injuries with the Mind and Body Connection
#42 - March 2014 - Overcome the Fear of Getting Injured While Running
#41 - February 2014 - Enjoy Runner's High More Often!
#40 - January 2014 - Can you Handle Cold Weather Running?
#39 - December 2013 - Discover Your True Potential
#38 - November 2013 - Body Awareness Can Keep You Running Injury Free

Return to top of The Peaceful Runner Newsletter
Back to Running Injury Free
Subscribe Here to The Peaceful Runner Newsletter 
If you like this page, please share it below or add your comments.