Running Injury Free Blog
Skip down to see latest blog entries
The Running Injury Free Blog contains all the latest and greatest information and news about running injury free and staying healthy. It...
lets you know whenever any new web pages appear on The Peaceful Runner - information to help you become a happy, healthy and injury free runner.
keeps you up-to-date with other postings or news about running -- like a new product or new technique you'll want to know about asap.
lets you know when the next issue of The Peaceful Runner Newsletter is available.
Subscribe to the Running Injury Free Blog now -- no email address is required and it's easy...
- Just click on the orange RSS button (it's on the top of the Recent Articles in the left menu or at the bottom for mobile users) and subscribe to your preferred RSS reader.
- Or just Follow Me at Bloglovin!
Blog Entries
Can the Paleo Diet Sustain Runners Needs?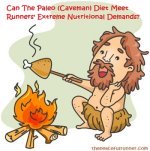 The Paleo diet for runners -- can it sustain the nutritional demands of runners? If we eat like our ancestors ate, will be run better?
Continue reading "Can the Paleo Diet Sustain Runners Needs?"