Running Injury Free Blog
Skip down to see latest blog entries
The Running Injury Free Blog contains all the latest and greatest information and news about running injury free and staying healthy. It...
lets you know whenever any new web pages appear on The Peaceful Runner - information to help you become a happy, healthy and injury free runner.
keeps you up-to-date with other postings or news about running -- like a new product or new technique you'll want to know about asap.
lets you know when the next issue of The Peaceful Runner Newsletter is available.
Subscribe to the Running Injury Free Blog now -- no email address is required and it's easy...
- Just click on the orange RSS button (it's on the top of the Recent Articles in the left menu) and subscribe to your preferred RSS reader.
To find out more about RSS and blogging, click here... What's an RSS Feed?
Blog Entries
A Rude Affirmation for Running that Really Works!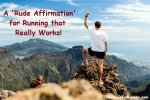 A rude affirmation sounds like an oxymoron but sometimes desperate situations call for desperate measures!
Continue reading "A Rude Affirmation for Running that Really Works!"
If you like this page, please share it below or add your comments.