I Want Waterproof Running Shoes!
We may earn a commission for purchases using our links. Learn more.

I want waterproof running shoes! Do you? Running during the winter months can be very uncomfortable with cold and windy conditions but if your feet get wet, it can be downright miserable! Sloppy snow and cold water puddles have a way of seeping into our running shoes. Waterproof shoes can help keep your feet dry, keep you safe in wet and slippery conditions and most importantly--keep you happy. However, there are a number of options to choose from so make sure you know what's available before you buy.


Waterproof running shoes are usually made from a waterproof, breathable material. The most common waterproof material for shoes is GORE-TEX®. It is essential that the upper is made from breathable fabrics to allow airflow to ensure your feet can breath while running.
Ensure that the shoes you purchase have non-slip, durable soles which offer reliable traction for wet and slippery conditions. You will feel much more confident running in heavy rain or wet snow when you don't have to worry about slipping.

Waterproof running shoes are often more expensive and less breathable than regular or water-resistant running shoes, but they will help keep your feet dry and warm in extreme conditions. A water resistant shoe will help keep your feet dry in light rain or in small amounts of water, but will not keep you dry in more severe conditions.

If it is particularly cold where you run, you may want to consider purchasing
wool socks
to keep your feet toasty warm. Wool socks, unlike cotton or synthetics, will keep your feet warm even if they get wet. Having cold toes during a run is not a pleasant experience.
How to Identify Waterproof Running Shoes
Many shoe manufacturing companies make a waterproof model but also make an identical pair of water-resistant shoes.  It can be difficult to identify which one is actually waterproof if you don't know what to look for.
As most waterproof shoes are made from GORE-TEX®, they can easily be identified as they include "GTX" on their label. Keep this in mind to ensure that you are purchasing GORE-TEX® shoes. Also, ensure that you buy the best running shoes designed for you feet, considering whether you are an overpronator, underpronator or a neutral pronator.


Image courtesy of Dan / FreeDigitalPhotos.net.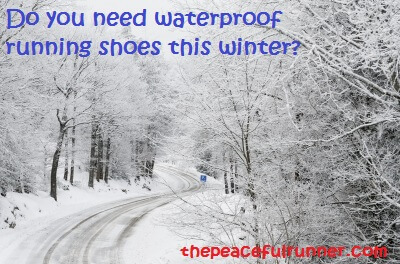 Before you buy your next pair of wet-weather running shoes, consider the conditions that you are most likely to be running. Extremely wet weather and slippery conditions will require waterproof running shoes to keep you dry and safe. For less severe wet conditions, a cheaper, more breathable, water-resistance shoe would probably be sufficient.

If you don't want to purchase a new pair but you will be running in wet weather, try this cheaper alternative to feel more comfortable in wet running conditions. Pick up a can of
waterproofing spray
and give your regular shoes a treatment to make them water-resistant. Of course, they won't keep your feet as dry as a pair manufactured as water resistant, but they will keep your feet dryer than before.
How to Dry Wet Shoes
If you run regularly, you will no doubt encounter wet weather and regular running shoes will get quite wet and soggy. How do you safely and quickly dry your shoes in time for your next run?
Running shoes should not be exposed to direct heat. You can, however, place them in a warm area with a heat source nearby. Remove the insoles if possible and stuff the shoes with newspaper to help remove the excess water more quickly. Your shoes should be dry in about 12 hours. Whenever possible, I like to hang mine outdoors and let the wind dry them.
Waterproof Running Shoes
The
Saucony Peregrine GTX
is one pair of waterproof shoes that don't look like they are waterproof. These trail shoes are designed for neutral runners. Its GORE-TEX® liner provides breathable and waterproof protection and all-terrain comfort with high-traction outsoles.
A RUNDRY collar lining provides comfort and wicks away moisture for a fresher in-shoe feel. Soft fabric lining for next-to-foot comfort. Removable foam footbed. Heel/Toe Stack Height: 27mm/23mm. Offset: 4mm. Weight: 12 oz
The
Salomon XA Pro 3D GTX
gets great reviews and is a sturdy and comfortable waterproof stability running shoe. It has a removable insole, speed lacing system and quick drying, breathable mesh.
The
Asics GT-1000 GTX
is great for mild to moderate overpronators requiring a blend of enhanced cushioning and stability. This waterproof version of Asics' most popular performance model has a rear foot and forefoot GEL® cushioning system and a rubber out-sole for long-lasting wear. A great reliable shoe. Heel Height: 1 1⁄2 in Weight: 13 oz
The
Inov-8 Roclite GTX
is a very popular breathable waterproof running shoe. It is more flexible than most waterproof shoes providing a more natural movement for runners. Runners are pleased with its durable, external sole which also provides good traction.
The ASICS Gel-Cumulus  G-TX neutral running shoe is an easy choice when you want a comfortable waterproof running shoe. It is reasonably priced and it is designed to keep you dry and comfortable in all weather conditions. 
The
Brooks Cascadia GTX
is a great waterproof running shoe if your running takes you over multiple terrains. This running shoe is great on grass, dirt roads, gravel paths and pavement. The Brooks Cascadia GTX is a neutral shoe. Its durable rubber outsole features TrailTack traction for a better grip and its GORE-TEX® membrane ensures breathable, waterproof protection. Weight: 11 oz
Also, check out the:
Brooks Ghost GTX
La Sportiva
have a number of styles available, including Raptor, Wildcat, Crossover, Tempesta, Akyra and Urgano. These shoes get great reviews with breathable uppers, comfortable GORE-TEX® waterproofing and Frixion rubber soles for great traction. Which one is your favorite?
More waterproof running shoes:
Waterproof Minimalist Running Shoes
It can be difficult for minimalist runners to find options for keeping their feet warm and dry without compromising minimalist standards. Fortunately, more and more options are becoming available in this style.
Vivobarefoot's option for keeping your feet warm and dry during wet weather, is the
Vivobarefoot Primus Trail SG
. This shoe includes all the essential barefoot principles, allowing your feet to move as nature intended while still providing you with the best possible outdoor barefoot experience in all weather conditions. Get ready to hit the trails with high-profile lugs for superior grip on muddy and loose terrain. A quick-draining and breathable shoe, featuring a lightweight stretchy ankle collar for unrestrained mobility whilst keeping out grit, will help keep you dry and comfortable.
The Merrell Trail Glove, although not promoted as a waterproof shoe, is a very popular choice for barefoot runners in slippery, wet conditions. The Vibram outsole and trail protect pad offers underfoot protection and water resistance. 
A waterproof option for the minimalist runner who likes a thicker outsole (25mm) is the
Altra Lone Peak Low RSM
. It has 0 mm heel to toe drop and a roomy toe box for a more natural running feel. It is lightweight, provides breathability, and has great traction over rough terrain. The RSM collection provides protection against rain, snow and mud!
The
Vibrams Bikila Evo WP
is a great choice for the barefoot runner who runs in cold and wet weather conditions. These shoes are fully waterproof and the outsole is designed for extra grip on ice. There are two fastening mechanisms for a snug fit and they are available for both men and women.
So no more excuses for not running in cold, wet weather! There are many options to keep your feet dry and warm in all seasons regardless of your running style! 
Back to top of Waterproof Running Shoes
Return to Winter Running