Use Visualization Techniques to Achieve Your Running Goals

Visualization techniques can help you define and shape your future accomplishments through visualizing and imagining positive images. You can attract positive outcomes by experiencing them in your mind first.  Your subconscious mind cannot distinguish between what your mind sees (a mental image) and what your eyes see (your current reality). Your self-concept is only limited by what you think you can do. Visualize whatever you want to achieve in vivid detail.



When you use visualization techniques and methods properly, you can clearly see in your mind's eye the positive image in great detail.  You imagine yourself running strong and fast and feeling great as you do it. Visualizations affect your nervous system by using the same muscle patterns as if you were actually performing the activity. Your brain interprets the movements as real allowing your subconscious to believe you are performing these actions with ease and without fatigue or stress.


"What you think you become."
-- Buddha


Visualize your goal in great detail using as many of your senses as possible. Practice as many times as you can throughout the day. It can be particularly helpful to do when you are going to bed as it will stay with your subconscious throughout the night. 

Add as much detail as you can to the positive image and get your senses flowing. What are you feeling? Imagine all the muscles in your body as they move continuously with ease in perfect form. What do you see and hear? Can you detect any smells? The more vivid your image, the more effective it will be. Write down the details of your positive image to increase its effectiveness and help you envision your experience over and over. 


Overcome Obstacles and Feel More Confident with Visualization Techniques
You can use visualization techniques to help you overcome any difficulties you are experiencing with running. If you think your form needs to improve, imagine running with a beautiful, strong and efficient posture. If you find hills difficult, visualize that you are running up hills easily and you conquer each one as they appear. They are no longer a problem for you.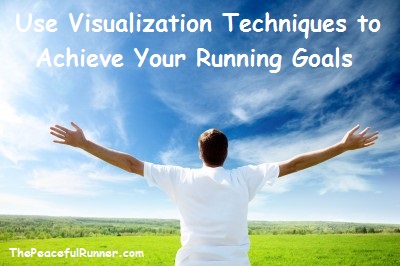 Visualization techniques can help you feel more confident as you have already accomplished your goal in your mind. You will be less likely to have negative thoughts while running and if they do arise, you can bring to mind positive images and overcome them. 


Visualization Techniques to Enhance Race Performance
A very effective way of teaching the body how to do something is to do it first in your mind in great detail. Through the memory of the experience, the body learns how to physically output what it has experienced in the memory.
Athletes, such as Tiger Woods, use visualization techniques to train their mind and body to perform their best. They vividly imagine with great sensory detail themselves performing perfectly, e.g. a perfect game, a perfect score in a competition, running a fast marathon, or performing a perfect high dive. As they visualize, they focus on how the body feels in each moment as each movement is executed. They create a memory of a perfect performance and in doing so, they teach the body what it needs to do and how to do it.
On the day of the competition or race, their mind and body know how to perform. These athletes feel confident as they know it will be easier for them to give a great performance as their mind and body have already experienced it. They feel as if they have already accomplished their goal. They just need to repeat it again.
This race visualization exercise can help you learn and master the art of visualizing. Use it to help you visualize an upcoming race before you do it. It will help you feel more confident and less anxious. We all tend to get nervous before a race even if we are well prepared. This exercise will help you overcome pre-race anxiety and help you achieve your running goals as you learn to enjoy every race!


Visualization Techniques to Recover From Injuries
Use visualization techniques to recover from an injury. Imagine positive healing energy flowing into the area of your injury. Your muscles and ligaments are healing rapidly. You are happy that you will soon be able to run again. The positive images can help speed recovery. 


"Visualize the energy of unconditional love filling every cell of your body and healing you completely."
-- John F. Demartini

When you are injured, visualize that you are doing specific running workouts and drills. Imagine that your running is improving with the mental workouts you are doing. You are running strong and injury free. Strong visuals of yourself running while injured can help you maintain your skills while you are not able to run and will help you to recover faster.


Related articles:
A Simple Trick to Run Faster Effortlessly
3 Ways to Overcome that Sluggish Run
Back to Top
Return to Running Psychology
FTC Disclosure: As an Amazon Associate, I earn from qualifying  purchases.
Learn more.


NEW FEATURE - DISQUS COMMENTS!
Be the first to comment.
Login using Facebook, Twitter, Google or Disqus.