Want to be Running Injury Free NOW
and For the Rest 
of Your Life?
I certainly do! See what I have discovered on my quest for running injury free now and forever....

If you are like me, you love to run. I love it because it is so easy to do. All you really need is a good pair of running shoes (or not if you like barefoot running). I can easily make running part of my weekly routine and schedule it around whenever is good for me. It is a great excuse to get outdoors and enjoy some fresh air and I can do it anywhere or anytime, even when I am travelling. One of the things I love to do when I am on vacation is to get up early before it gets too hot and run barefoot on the beach. It feels awesome!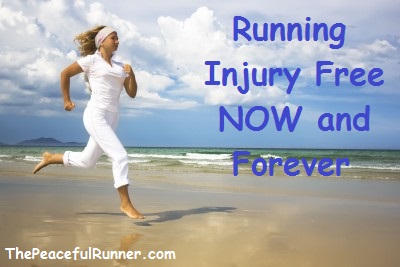 Running gives me lots of energy and I feel great. It is a great stress reliever, but the real magic happens when everything is in sync—our mind and body are relaxed and we experience the sheer pleasure of running. Our body seems to move effortlessly and in perfect form. The time and miles pass quickly. This is the addiction for runners. This is why we run. This is our drug!
I want to keep running for a very, very long time—actually my goal is to be running injury free for the rest of my life.

I want to run and train without experiencing pain and injury. If I am training hard and running long distances, I want to feel good both during and after running. I want my body to work the way it was meant to work -- strong, relaxed, efficient and pain free, like a well-oiled machine...like a peaceful runner!

If you feel the same way that I do about running pain and injury free, keep reading and you too will soon be on your way to running injury free NOW and for the rest of your life!


Running Injury Free and Without Pain
I used to be a regular patient of physiotherapy, massage therapy, and chiropractic medicine—all of which were helpful in dealing with the soreness, but I didn't want to just treat the soreness—I wanted a permanent solution!! I wanted to run easily and without pain, so that none of these treatments would be necessary. 
Most running sites concentrate on the traditional methods for preventing and recovering from injuries. This site is different. We will help you learn how to use your own mind and body to prevent and recover from injuries. You will learn how to run mindfully, develop your awareness of how your body moves, how to best deal with running pain, keep your body relaxed, strengthen your mind/body connection and much more so that you can understand where injuries come from and how they can be prevented.  

There is a strong connection between the mind and body where optimal energy and wisdom can be accessed. We can learn how to use our minds to teach our bodies how to move efficiently and effectively, resulting in...running injury free forever!


Running Injury Free:
5 Unconventional Ways to Enjoy Pain Free Running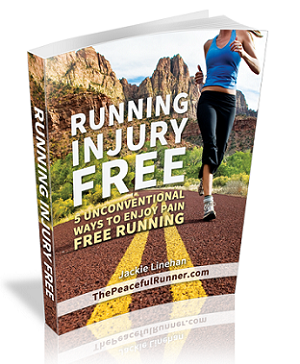 My new book is soon to be released!! Learn how to prevent running injuries, deal with running pain, recover faster from a running injury and much more using strategies that are "unconventional" and effective! Use these powerful and long lasting methods to greatly enhance the probability of never having another running injury.
Keep your eye on this space or sign up for my newsletter to find out as soon as it is available. 
Mind and Body Awareness
Meditating while running can really help you tune into your body's capabilities. It will also help create more peaceful and enjoyable runs while improving running ability, reducing injuries, improving ability to stay in the present moment, increasing body awareness and calming your mind. Meditation has so many benefits and you can now practice it while running!
When I first started running, my body would really hurt after running long distances. When I trained for a marathon in 2008, I experienced tremendous soreness in many parts of my body. When arising in the morning, it was difficult to move as a result of the stiffness in many of my joints and the numbness in my hips. I knew if I didn't change something soon, it wouldn't be long before I would have a serious problem. I was determined to continue running and to find a solution.

Since then I have found a number of methods very effective in keeping my body pain-free. Developing a strong sense of body awareness has been a key part of running injury free. The Feldenkrais Method was also instrumental in helping me learn to move my body in the most efficient and most effective method without pain or stress. It also alleviated the need for stretching after running. Running doesn't hurt my body anymore and I attribute this to the strength of the mind and body connection.


Confused about how to Run Better?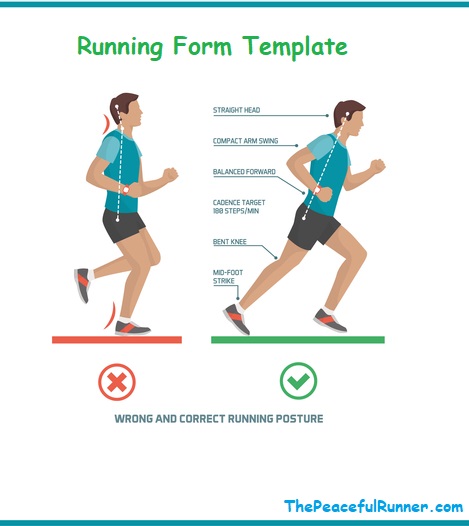 Get the running form template now!
The Running Form Template summarizes the components of a good running form, explained simply and clearly, removing the confusion of how to run better!!
Let's keep in touch! Click below to subscribe to our Newsletter and you will also have instant access to the Running Form Template and a number of other freebies!

A Happy Runner is an Injury Free Runner!
Our life experiences are not always happy. If we don't know how to properly deal with and release our emotions during these stressful events, they remain in our bodies until a later time when the body feels it is safe to release them. Unfortunately for runners, these suppressed emotions often show up as running pain and running injuries. We need to learn how to deal with these sensations in a positive way and allow them to easily move in and out of our bodies. 
Negative thinking is another reason runners get injured. When we allow negative thoughts to take over, we feel down and depressed. This negativity creates stress and tension in the body—the perfect conditions for an injury to develop.
Have you ever had a negative run? I bet it was one of the most difficult runs you ever had and I bet your body felt very tired and sore afterwards. Much of how our body feels is related to our thinking. We need to keep our mind happy in order to keep our body happy so that we can keep running injury free! 
The 10 Most Powerful Life Changing Affirmations for Runners Program can help you be happier, stay positive and run injury free!
Visit my Facebook page!

Get all the inspiration and running motivation you need as well as the latest news from this site and the rest of the running world. Be sure to "LIKE" our Facebook page once you get there!

Feel free to add comments and share them with your friends! Be sure to log in to your Facebook account in order for your "LIKE" to show on your Facebook wall.

Vital aspects of developing a strong mind and body connection include the use of positive affirmations and learning how to relax while running as well as others described throughout this website. You can learn how to run more efficiently, pain-free and using less effort. 
Please join me in pursuiting joyous, injury free running! Sign up for The Peaceful Runner Newsletter and start your journey to running injury free forever!
Also check out the Peaceful Runner Club to discover what it means to be a peaceful runner.

Questions or comments? Add your comments or questions below or you can contact me here: Contact Us

We may earn a commission for purchases using our links. Learn more.


If you like this page, please share it below or add your comments.

This website does not sell personal information. See our Privacy Policy.