Who are the Hash House Harriers?
The Hash House Harriers are known as The Hash, the HHH or H3. It is the largest non-competitive running club in the world with almost 2000 groups or chapters in over 180 countries.
The group is self-described as "a drinking club with a running problem." Their slogan highlights the purpose of the group as being more social than most other running clubs. To participate in the Hash, it is not necessary to be a fast runner, but a sense of humor is essential to participate.


Most Hashes gather weekly or monthly, but some less frequently. Each chapter usually has a regular membership, but visitors are welcome to join the Hash for a small fee to cover the costs of food or drink. Before attending a hash run for the first time, it is best to check the website for the specific location of the run and any items you may need to bring with you, e.g. water to wash down, change of clothes. 

Hash House Harriers Run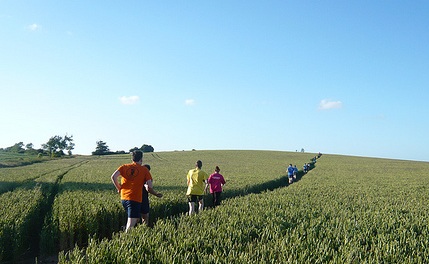 The Hash House Harriers originated in Kuala Lumpur in Malaysia in 1938. It was started by a group of British colonial officers and expatriates who were stationed there at the time. On Monday nights, they participated in a run based on the traditional British "Hare and the Hound" to get some exercise and rid themselves of weekend over-indulgences.
Subsequently, the club acquired the name: "Hash House Harriers." The name was derived from the nickname of the men's housing residence, "Hash House," because of its often repetitive and dreary meal choices. The name stuck, but Hashing died out during World War II. It was revived again after the war and has grown into the worldwide club it is today. (Source: Wikipedia)
Before each Hash, a trail is set by Hares. The trail is usually marked with paper, chalk, sawdust or flour. It will often include false trails, dead ends, splits and short cuts and it often involves running through rugged country trails with beautiful scenery.
During the Hash, the lead runners search for the true trail while the slower runners or walkers enjoy a chance to catch up. The purpose of the false trails and short cuts is to keep the pack together, emphasizing the social aspect of the run. On a well-laid trail, all members of the pack finish the trail close together.
After the run, it is time to socialize and have a drink with the pack. Drinks and/or food are provided for a small fee. Members gather in a circle, cajole each other for minor misdeeds and sing songs for a down-down. When called to the center of the circle for a down-down, members are expected to chug beer - although water is sometimes offered as an alternative to those driving. The socializing or On-On-On is continued on to a restaurant, bar or another location nearby.
Have you Hashed yet? If not, give it a try. It's the most fun you will ever have on a run.
On-On...
---
Your favorite Hash House Harrier group
Are you...? If you are a Hasher, please tell us about your favorite group. Tell us where your Hash is located and why you love running with them. Please include a link back to your Hash's website so visitors can easily find you. If you have a picture to share, please add that too!

No login is necessary...to begin just enter the name of your Hash group....

Read/Comment on Other Hashes
Click below to see other Hash entries...


Back to top of Hash House Harriers
Return to Running News



FTC Disclosure: As an Amazon Associate, I earn from qualifying  purchases.
Learn more.


NEW FEATURE - DISQUS COMMENTS!
Be the first to comment.
Login using Facebook, Twitter, Google or Disqus.