Got Black Toenails from Running?
Learn How to Treat and Prevent Them!
Getting black toenails from running is a common issue for many runners. The problem occurs when the toes repeatedly hit the front of the shoe while running. The constant trauma against the toe causes a blister to form under the nail which causes the nail to pull away from the nail bed. Blood gathering in the blister causes the nail to appear black.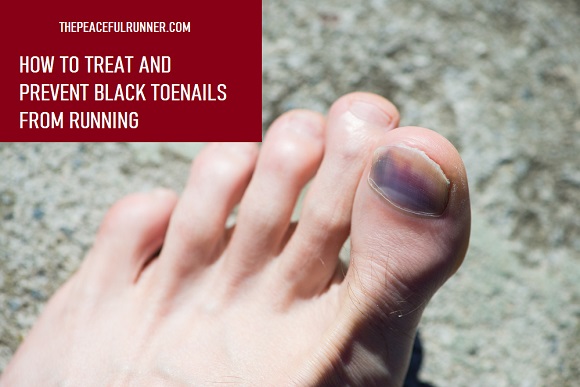 There are a number of conditions that contribute to this problem. The most common are:
Our feet swell when we run and our shoes become too tight causing our feet to push forward in the toe box. 
An increase in downhill running can cause our feet to slide forward causing trauma to our toes.
In hot weather, our feet sweat more and will tend to slide forward in our shoes. 
Black toenails are also a common occurrence after a long race. This is a result of the faster pace, increasing the force of impact to our toes.


How can we Prevent Black Toenails from Running?
First of all, because our feet swell when running, we need to ensure our running shoes have extra room to accommodate the swelling. Our running shoes should have a wide toe box and should be at least one half size larger than our regular shoes.
Tying our shoe laces tighter along the front can help prevent the feet from sliding forward. We must also keep our toenails well trimmed to protect our nails and prevent black toenails from running. 
During a long run, we need to keep our feet as dry as possible to reduce sliding inside the shoe.  Moisture wicking/anti-blister socks can help with this.
If black toenails from running continue to be a problem for you,  protective toe caps may help. 
I have Black Toenails from Running!
If you have a black toenail from running and it is not too painful, you don't need to do anything. The nail will eventually fall off as it gets pushed away from the nail bed. A new nail will begin to form underneath the old one and will eventually replace it. It will take about three months for the nail to fall off.
However, if you want to try to save your nail and relieve the painful pressure, you can try the following treatment at home. But it must be done as soon as possible, ideally within hours of being hurt. If you wait 24 hours, the blood will have started to dry and you won't be able to drain it. Many runners choose to perform this treatment safely at home.

Normally, there are no complications with black toe nails from running; however, if the pain doesn't go away after a few days or there are signs of infection, you will need to see a doctor.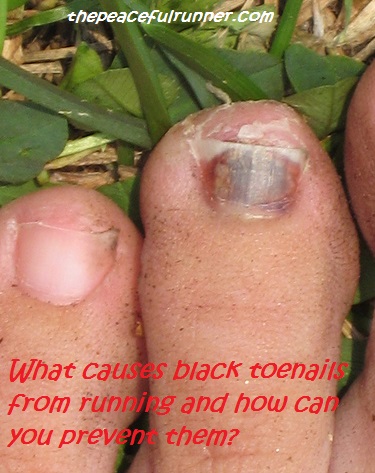 How to Treat Black Toenails from Running
If the blood blister is near the end of the nail, you can use a hot needle (heated over a flame) to break the blister. Press on the blister to remove as much blood and liquid as possible. This will help relieve the pain and pressure. Apply antibiotic cream to the blister area to prevent infection. 
If the black area is in the center of the nail, you will need to make a small hole in the nail to drain it. Use a paper clip that has been heated over a flame. Push the red-hot paper clip through the black part of the nail to create a small hole for the blood to drain. Press on the nail to remove as much liquid as possible. Then apply antibiotic cream on and into the bruised area. This doesn't usually hurt although it sounds quite painful. 
Again, if the pain doesn't go away or there are signs of infection, see your doctor.
For the vain and squeamish among us who do not want to attempt this treatment, but want to cover up the black nail, there are various shades of nail polish that can cover black toenails quite well. Popular colors to use are: dark purple, deep burgundy, metallic silver, or use a black polish with colorful flowers.
Then there are those among us who proudly display their well deserved badges of honor without shame—and bravo for you! Most runners have experienced or will experience black toenails from running at some point in their running career and it is really a personal choice how to deal with them.  
How do you deal with black toenails from running?


Your experience with black toenails
Please tell us about your experiences with black toenails by adding your comments below. What do you think caused your black toenails? Did you do anything with them or did you wear them proudly? If you have a picture, please add that too!

No login is necessary...to begin just enter a title for your comments....

Read/Comment on Other Runners Comments
Click below to see comments from other runners...

Back to top of Black Toenails from Running
Return to Best Running Shoes
FTC Disclosure: As an Amazon Associate, I earn from qualifying  purchases.
Learn more.


NEW FEATURE - DISQUS COMMENTS!
Be the first to comment.
Login using Facebook, Twitter, Google or Disqus.