FTC Disclosure:  Some links in this page may be affiliate links. What this means is that I may receive a small commission if you wish to purchase at no added cost to you.
A Simple Trick to Run Faster Effortlessly



August 2018--

The Peaceful Runner Newsletter #95

Dear Friend, radically transform running
We hope you find this month's newsletter interesting -- A Simple Trick to Run Faster Effortlessly! -- and we hope it helps you enjoy running even more! 
If you find this information helpful and think it may help others learn how to run faster, please be kind and share it!


---
A Simple Trick to Run Faster Effortlessly
---

Go faster effortlessly with this simple trick that anyone can learn. You can use your mind to teach your body to go faster.
Learn how to utilize the power of your mind to trick your body into running faster without extra effort.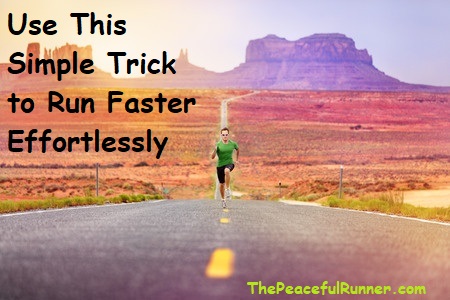 This technique is best practiced after you have completed a warm up. Start by feeling a connection with your heart. If you are not quite getting the feel of this, try directing your breath into the area of your heart.
Once you feel this connection, imagine that there is a cord attached to your heart and that it is pulling you forward. You are not using your own energy to go faster, the cord is pulling you along and it is doing all the work Allow yourself to be pulled forward at a faster pace than you normally run. 
Stay with this visualization technique as long as you can. Your pace will become faster without effort. Continue to practice this technique while running. As your body gets used to running at this faster pace, it will naturally become your normal pace.
This technique requires a lot of concentration which comes with practice so stick with it for a while. It is a great mental exercise so very helpful in improving your mental prowess and as we know from experience, running is very much a mental exercise.
You can also use this simple trick to help you get up those hills or to keep running when you are feeling tired. It's very versatile!


The idea for this technique came from a book I read years ago called, Body Mind Mastery by Dan Millman. Although this book was written about 20 years ago, the content is still very relevant. You can access another technique and excerpt from this book in this article, Relaxation Exercises for Runners.
Dan Millman is also the author of my all time favourite book, Way of the Peaceful Warrior, which is kind of obvious I guess :) 
Using visualizations is a technique that is used by many professional athletes, who attest to its effectiveness. Visualizations can help you overcome any difficulties you are having with running, such as race anxiety, injuries, poor running form, fatigue, etc.


These techniques are effective because they allow you to use the power of your mind to master running. Your mind is a powerful tool. Don't underestimate what it can achieve.


Read more about Visualization Techniques 
Also, check out this Race Visualization Exercise

Until next month, be happy, healthy and keep running!
With love and blessings,
Jackie ♥

Back to Top
---
Have you enjoyed this month's issue of our newsletter?  If you would like to have each new issue delivered directly to your Inbox, subscribe here.
You can also:  
Previous Issues of The Peaceful Runner Newsletter
FTC Disclosure: As an Amazon Associate, I earn from qualifying  purchases. Learn more.

If you like this page, please share it below or add your comments.