Running in Hurghada, Egypt 
Red Sea Running
Running in Hurghada while on vacation was challenging, but I loved it. It was my first trip to Hurghada. I had no idea where or even if it was going to be safe to run in this city, but I am so glad I explored the possibilities. 
Whenever I go on vacation in a new area, I always try to explore it by running there. I somehow feel more connected to a place when I run there, and Hurghada was no exception. 
Running in a new area is both exciting and a little scary. What will I see during this run? What will I discover? Hurghada kindly provided a few surprises and a hidden 'trail'!
My husband, who is not a runner, and I were staying an adults-only resort called Meraki, which is about 6-7 kms north of the marina. It is a large resort with an incredibly long 2 kms of private beach with lots of sunbeds. Part of the beach included a beautiful, long and winding sandy peninsula, which extended out into the clear, blue-green waters that surrounded it. 
The beach at the resort was a great place to run as it was wide with a  firm surface and a comfortable, cool ocean breeze. However, running on the beach was limited to the boundaries of the resort as the neighbouring beaches were all private, unlike the open boundaries resort beaches in Sharm El Sheikh.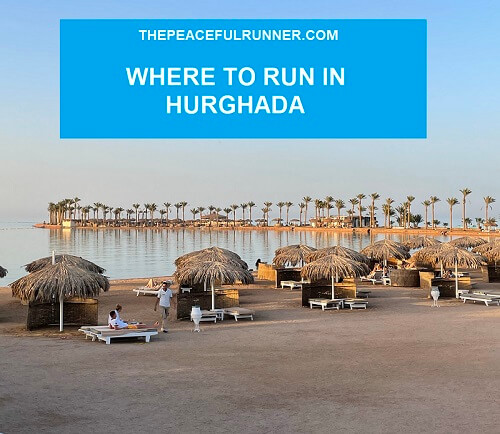 I enjoyed running on the beach at our resort, but I wanted to see more of Hurghada. After inquiring with the hotel reception, I was assured that running outside the resort was safe, so I couldn't resist venturing out into the streets of Hurghada. 
I heard that The Marina was a nice area for running, but from where I was staying, it was just a bit too far. However, I decided to run in that direction along El-Bahr. 
An Unexpected Treat!
After running about 3 kms along the streets, I was pleasantly surprised as the streets opened to this delightful area! I had arrived at the Hurghada Corniche, a modern, wide boardwalk with great open views of the Red Sea as shown here... 
Hurghada Corniche
Running on the boardwalk was great as it stretched along between the sea and the desert for almost one kilometre. It's located near the Sunny Days El Palacio Resort on El-Bahr.
I wanted to run 10 kms that morning, so I continued running until I reached a wide roundabout where the Chevrolet Auto Marine building was situated. This was about 5 kms from my resort. Looking on the map later, it looked like I was 1-2 kms away from The Marina so it would seem that all along this coast is suitable for running. 
A Hidden Running Trail!
I was also curious about what was north of our resort, so I ran in that direction a few mornings. It was a much quieter area with less traffic at least early in the morning. I started all my runs by 7:00 am before it got too hot.
Again, I ran along El-Bahr keeping parallel with the sea until it turned sharply to the left. At this point I noticed a lady walking her dog and exiting from what appeared to be a deserted beach area. I needed to see what was in this slightly hidden area. I could easily have missed it if I hadn't noticed the lady walker. Note: The entrance to this walking/running area is just past the Sea Star Beau Rivage Hotel.  
It turned out to be an ideal running area. It was off-road, open to the sea breeze and had a firm running surface. It ran parallel with a main road, which cannot be seen initially. Starting out I could only see a newly constructed dividing wall that blocked much of the view ahead. Once past the wall, I could see vehicles moving on the Hurghada - Al Ismaileya Road; so even though it looked very remote and isolated, it was not far at all from a main road. This stretch of 'trail' ran alongside the sea for about 2 kms, at which point it became private beach area again.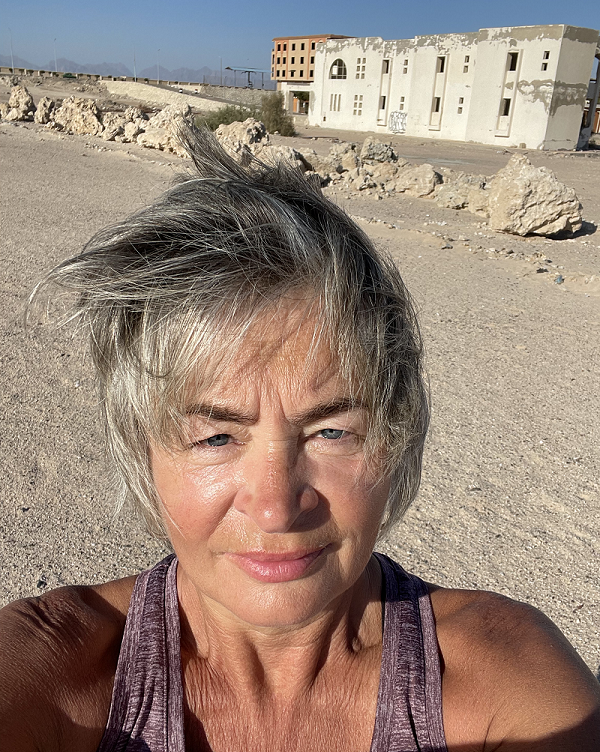 At the end of the trail near the road.
I decided to do a circular route so I ran back via the road, but it felt a lot hotter being away from the sea breeze. This road joined with El-Nasr which is the route I chose. I then turned left by the mosque as shown in the image below. Alternatively, I could have turned left by the El Dora roundabout to go back to the same road where I exited. 
Challenges when Running in Hurghada
I felt safe running in Hurghada, but I did need to be mindful of the traffic and inconsistent sidewalks. Many of the sidewalks are very high—more than a foot in many places, so they are a bit of an annoyance when running or walking. However, there are a lot of parking bays alongside the street, which are often empty and provide an easier alternative when facing traffic. 
In Egypt, the weekend takes place on Friday and Saturday, but during the week, you can see children and their parents making their way to school in the mornings. I was pleased to see a coach running with a group of young kids in their team uniforms. 
I also saw a number of dogs roaming in the streets, but none of them were aggressive. I have only witnessed them barking at other dogs, as they appeared to be only interested in maintaining their 'doggie' territory.  
Whenever running in an unfamiliar area, it is advisable to carry your phone for safety. The #PRPocket is a safe, discreet, and comfortable way to carry your phone on vacation.
If you don't have data on your phone,  you can download the area in Google Maps prior to leaving home to ensure you don't get lost. For more useful holiday running tips, check out Running on Vacation.


Another Running Area
On the drive back to the airport, just south of The Marina, I noticed a very wide boardwalk that looked great for running. It seemed to run all the way along Sheraton Road from Seagull Beach Resort to Hurghada Marriott Beach Resort. So there are lots of options for you to run safely in Hurghada!
If you have visited Hurghada, please share your running experiences with us in the comments below.

Back to top of Running in Hurghada
FTC Disclosure: As an Amazon Associate, I earn from qualifying  purchases.
Learn more.


NEW FEATURE - DISQUS COMMENTS!
Be the first to comment.
Login using Facebook, Twitter, Google or Disqus.