Running on Holiday in Sharm El Sheikh
(After the Pandemic)
It was interesting to be running on holiday in Sharm El Sheikh again after the pandemic.  Sharm is a popular resort town in Egypt with lots of sheltered sandy beaches, sunshine, clear waters, coral reefs and colorful fish—ideal for snorkeling and diving! Running is not so popular here, but there are options for running as I discovered.  
I was staying in a resort on Montazah Beach, which is only a short distance from the airport. In this area, there is a small track that runs alongside the sea and all the resorts in the area. It is perfect for running but it can become tedious running the same track every run. 
There were a number of quiet roads close by so I inquired with the hotel staff and the security guards about how safe it would be to run outside the resort. They all assured me that the entire area was perfectly safe. However, I was advised to be mindful of the inconsistent sidewalks and to watch for cars, which were often driven very fast along the roads.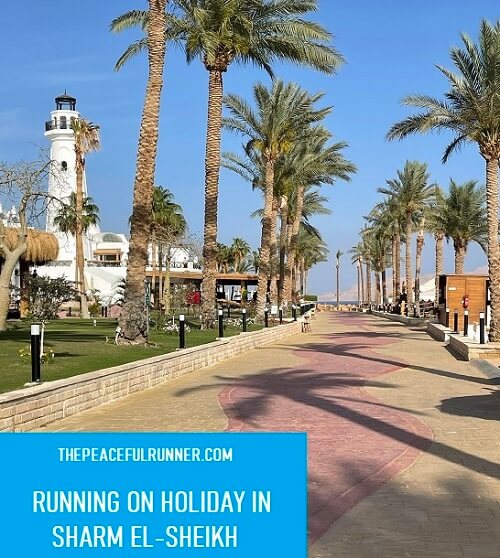 Perfect! I was free to explore and run wherever I wanted. I always love to explore the area around where I am staying so I can get a better feel for the town rather than just staying within the confines of the perfectly maintained resort grounds.  Sharm El Sheikh has a dry and dusty landscape, which is easy to forget when all you see is perfectly manicured lawns and beautiful flowering trees throughout the resorts.  
Not So Pretty Outside the Resort!
Once outside the resort, the land was very dry and dusty with little plant life. Also, signs of the effects of the pandemic and the airport security concerns in the years prior to the pandemic were clearly visible. Many construction projects had been started during more lucrative times, but now many were left abandoned and unfinished. See pictures below. 

As I saw one abandoned project after another, I wondered if the booming tourist industry would ever return to this area. There were also many hotels that had not reopened and others who had attracted only a small number of guests.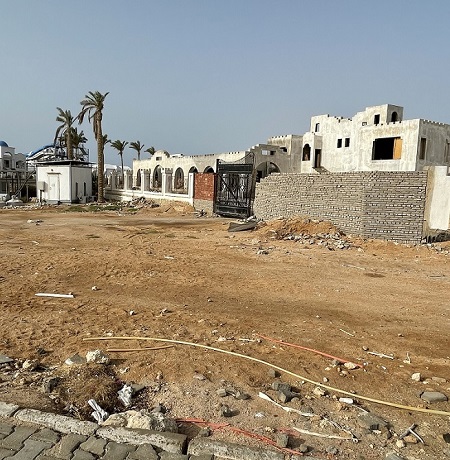 If you decide to vacation in this area, check with your hotel staff first, but chances are they will tell you it is safe to run anywhere in the tourist areas. Security guards were present on all the resorts and I felt safe as I ran around the streets and explored the Montazah Beach area on my own.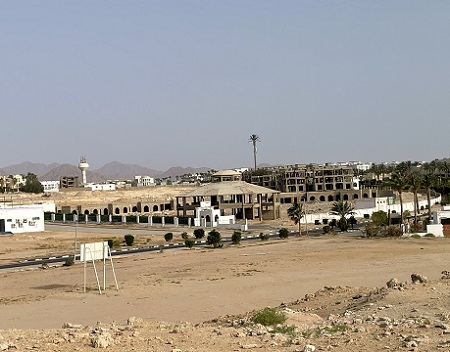 My last holiday in Sharm El Sheikh was in 2016 and I stayed at a resort in Nabq Bay. It also had a track that ran alongside all the resorts and the beach. I would have preferred to run on the sandy beaches,  but in both locations, the sand was too soft for running. The sand also had a gritty texture so not very enjoyable for walking either.

Running Barefoot on a Sandy Beach
Running barefoot on a sandy beach is my favorite way to run on vacation, but unfortunately it's not an option for running on holiday in many places. The last time I ran barefoot on a beach was in Punta Cana, Dominican Republic in March 2019. Prior to that I had many opportunities when we lived in Singapore and had weekends away in Thailand and Malaysia.
If you know of areas with firm, sandy beaches that are great for running, please share them in the comments below or email me. I would really love to experience barefoot running on holiday again. 
Update 2023: Finally Barefoot Running on Sand again!
Best Time for Running on Holiday
I travelled with my family to Sharm El Sheikh in April 2022. The temperatures were unusually hot with some days reaching 40oC. However, it was also very windy so it felt very pleasant and comfortable. All my running took place in the early morning starting before 7:00. It was daylight by 5:30 and sundown was about 5:30 pm so an evening run would work as well. 
At my resort, there were lots of cross training options available for guests, such as aqua fit, Pilates, circuits, yoga, balance boards, interval training, as well as volleyball, basketball and tennis. Aqua fit was my favorite. I equate it with dancing in the water. It was lots of fun and I didn't feel like I was exercising! I stayed at the Coral Sea Sensatori, which is just a short drive from the airport and from Soho Square. 
What are your holiday plans this year? Do you plan to run on vacation? Please share them here: Your Running on Vacation Adventures
Return to Tips to Keep Running on Vacation
Back to top of Running on Holiday in Sharm El Sheikh
FTC Disclosure: As an Amazon Associate, I earn from qualifying  purchases.
Learn more.


NEW FEATURE - DISQUS COMMENTS!
Be the first to comment.
Login using Facebook, Twitter, Google or Disqus.