Cheap Barefoot Running Shoes
Cheap barefoot running shoes have become readily and easily available. So if you are someone who is interested in trying barefoot running but do not want to invest a lot of money in an expensive pair, you now have lots of other choices. 
I have been running in barefoot shoes for eight years and my biggest problem is finding barefoot shoes that fit well and are easy to find at a good price. I love my Vibram FiveFingers as they are the most minimalist shoe that I have found to date, but the sizes vary, the styles keep changing and they are not readily available at a decent price.  They are not very comfortable when the weather is cold and wet and they require toe socks, which are expensive. Also, because of their appearance, I will only wear them running not walking or hiking like my other minimalist shoes.
I recently bought the following pair from Amazon UK and I love them--so comfortable and very reasonably priced. I  have only been running in them a short period of time, so I cannot comment on their wearability but they seem to be of good quality.
Update (December 2020): I have been wearing these shoes for almost one year now and I am pleased with how they are lasting. I have also realized that they are better in cooler weather as they keep my feet warmer and I can wear warm socks in them. They may now become my new choice for winter barefoot running shoes!  During really hot and humid temperatures, my feet felt really warm and sweaty in them.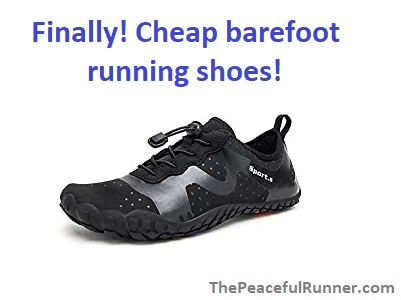 These new cheaper styles look more like regular shoes when compared to the Vibram FiveFingers and I would happily wear them at times when I am not running. They are very comfortable with or without socks which is great for those hot summer runs!
These shoes are also quick drying so great in the rain and for water sports--a multipurpose shoe! I prefer styles with laces rather than velco straps as I think they are more secure and provide a better fit. 


| | |
| --- | --- |
| | I have found similar cheap barefoot running styles available at other locations as listed below. They are so reasonably priced I want to try out the various different styles and colours!  |

Cheap Barefoot Running Shoes at Amazon.com



Cheap Barefoot Running Shoes at Amazon.co.uk



Cheap Barefoot Running Shoes at Amazon.ca



If you are not quite sure how to transition to barefoot running, check out the articles below for more information on its benefits and how to transition safely.

If you have any questions about barefoot running, please post them in the comments below.


Back to top of Cheap Barefoot Running Shoes
Return to Barefoot Running
Our Running Form Template Can Help You Run More Efficiently!
Instant download!
FTC Disclosure: As an Amazon Associate, I earn from qualifying  purchases.
Learn more.