Are you Ready for Barefoot
Running Shoes?
Barefoot running shoes or minimalist running shoes can be seen everywhere today. Countless marathoners, ultra-marathoners and regular folks have discovered the many benefits of wearing these shoes or glove-like shoes in some cases.
Since more and more runners want to experience barefoot running, the demand for barefoot and minimalist running shoes have increased. Numerous runners feel that the concrete and asphalt surfaces that exist today require some form of foot protection. These minimalist shoes allow runners to experience the mechanisms of barefoot running while still protecting their feet from glass, stones and debris. 

True barefoot running shoes do not interfere with the natural movements of the foot. The essence of barefoot running is to receive instant biofeedback from the feet to which the body responds naturally. These shoes are lightweight and flexible and are designed to strengthen the feet. There is no arch support or cushioning support as the goal is to use our natural arches. 
These  minimalist shoes will have a thin, unpadded sole and there will be slight or no heel-to-toe differential (known as zero-drop). Your feet should not be restricted by your shoes.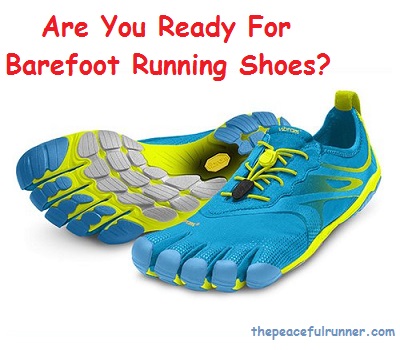 Barefoot running shoes will strengthen the metatarsals, plantar fascia and the ligaments in our feet allowing us to use our natural arches. Our feet can spread out more providing support and a wider base for balance, stability and improved posture. You will be able to feel how your body is impacting with the ground and make adjustments to lessen the stress of impact. You will be forced to pay attention to how you are landing or you will experience pain.

"My research has led me to consider that by encouraging minimal footwear we actually make the foot stronger over time. The human body is a remarkable machine and is engineered to perform without the need for $200 running sneakers."

-- Dr. Irene Davis, Director of the Spaulding National Running Center in Cambridge
If you are new to barefoot running, you will need to transition to your new barefoot running shoes slowly. Keep in mind when you are making your purchase how quickly you want to transition to running in your new shoes.
The greater the difference (support and heel-to-toe differential) between your old shoes and new shoes, the longer it will take you to transition to barefoot running. It is probably a good idea to try walking in your new shoes for a few weeks and then gradually incorporate short running sessions. Walking barefoot or in flat flip-flops will also help condition your feet and allow for wide toe spread.
Another method of transitioning to barefoot running shoes is to run totally barefoot for very short distances and wearing shoes for the remainder of your run. Running totally barefoot will help you develop a better barefoot running form.


What Barefoot Running Shoes
Are Available?
There is a vast selection of barefoot running shoes available from which to choose. The first on the market was the Vibram FiveFingers. They were initially introduced in 2006 for water sports. They quickly became popular with runners who wanted to experience barefoot running while still protecting their feet.
The
Vibram FiveFingers
are now available in a variety of models, styles and colors. They vary in weight but average around 5.7 ozs. The heel sits a mere 7.2 mm high. This is quite low considering the average running shoe is 35 mm high.
These barefoot running shoes have a unique design with 5 toe pods. The toe separation eliminates many foot problems that runners experience including athletes foot, chafing and black toenails from running. As these shoes are quite low, you will need to slowly transition to them.
Choose a model that has a great fit and is comfortable for you. Each style has a different feel. They should be worn loose and many prefer to wear them with socks, but you can wear them without socks. The average retail price is approximately $100 US. Check out the various styles below:
Also Paragon Sports has the following selection of
Vibram FiveFingers
.
Vivobarefoot Ultra
The
Vivobarefoot Ultra
is a great minimalist shoe from Terra Plana. The shoe or cage is made from the same material as
Crocs
and comes with a removable sock liner and tongue. All materials are 100% vegan.
There is zero heel to toe differential and only 6 mm high. The removable sock liner is puncture proof and can be worn on its own similar to the
Zemgear Minimal Shoes
. The
Vivobarefoot Ultra
can also be used for water sports when the liner and tongue are removed. Retails for $80-$90 US.
Vivobarefoot Stealth II WinterProof
If you want to continue to run in barefoot running shoes during the winter when it is cold and weather, the
Vivobarefoot Stealth II Winterproof
will keep your feet warm and dry. It is another great shoe from Terra Plana, with its waterproof coating and a removable thermal insole, your feet will feel great in the coldest, wettest conditions.
The Stealth II includes all the essential barefoot principles, allowing your feet to move as nature intended while still providing you with the best possible outdoor barefoot experience in cold and wet weather conditions.
New Balance Minimus
New Balance Minimus
. One of the more popular shoes in the line designed for the trails is the Minimus Trail Runner and it is one of my favorites. It is light weight at about 7 ozs, has a 4 mm drop and it is comfortable with or without socks.
The Holabird Sports Collection
Holabird Sports is a trusted sports apparel store and they offer free shipping over $30 in the USA.  They offer the following barefoot running shoes: 


Nike Free
The
Nike Free
and the
Nike Free Run
have become quite popular as minimal and racing shoes as they provide a good fit and are very flexible and lightweight. The latest models are the Nike Free 5.0 and the Nike Free Run 2. They look like regular running shoes but because of their flexible sole, they can be used to strengthen the foot.
There are a number of other models available and the price ranges between $85 to $100. Check out the following latest models:
Saucony Kinvara
The
Saucony Kinvara
is a great lightweight trainer. It is also a good transitioning shoe as its heel is 28 mm high -- higher than most minimalist shoes. It has a nice fit and weighs only 7.7 ozs. Average retail price is $110 US.
Merrell Glove Line
Merrell has an extensive line of minimal shoes in its
Glove Line.
Its latest model, the Road Glove was released in 2012 and its follow-up, the Road Glove 2, being introduced in 2013.
Newton Running Shoes
The entire line of Newton Running shoes are designed to help you find your natural running form.
One of their most popular racing shoes is the
MV Racing Flat
. It is slightly cushioned but weighs only 6 ozs. It is a light and thin racing shoe with zero drop heel to toe differential. These shoes have a firm top plate to cushion feet on landing. Retails for about $125 US.
Brooks Pure Project
Brooks has a new line of barefoot running shoes called the Brooks Running PureProject Collection. Check out the "Feel More with Less" experience! These shoes are the lightest for Brooks and they also have a tiny heel drop of only 4mm. Here are some of the shoes in the collection:
Mizuno Wave Universe
The
Mizuno Wave Universe
is a minimalist shoe that fits like a running shoe. It has a 16 mm heel height and weighs only 2.2 ozs. Its G3 Sole has lightweight, superior traction, creating a pure connection to the ground. It retails at about $90 US.
For more minimalist running shoes, check out:
Minimalist Running Shoes for Women
Minimalist Running Shoes for Men
What minimalist running shoes have your tried?
Please share your experience. You can do your own review right here! We would love to hear why you liked your shoes or didn't like them.

Help others decide on their purchase and feel free to add a picture.

It's easy to share - just enter the names of your shoes in the title to begin....

Back to top of Barefoot Running Shoes
Return to Barefoot Running