Barefoot Running on Sand
Nuevo Vallarta, Mexico
Barefoot running on sand has to be the most enjoyable way to run. If you are lucky enough to live in an area that has a sandy beach suitable for running, you can experience barefoot running on sand whenever you wish.
However, if you are like most of us, you have to wait until you go on a beach vacation to experience running on sand. Even then, it is not guaranteed. If the sand is soft and deep, it will be very difficult to run on. 

A number of holiday beaches that I have visited during the past few years were not suitable for barefoot running. Sometimes the sand was too soft or too gritty or the beach was just too short or too narrow. A long, flat beach with firm sand provides a great running surface for barefoot running; and recently (to my delight), I finally found a new holiday beach that is ideal for barefoot running on sand (or with running shoes). 
My latest find is in Nuevo Vallarta, just north of Puerto Vallarta, Mexico. I was staying with family in Marina Vallarta for most of my vacation, but my husband and I decided to check out Nuevo Vallarta and booked a hotel there for a couple of nights.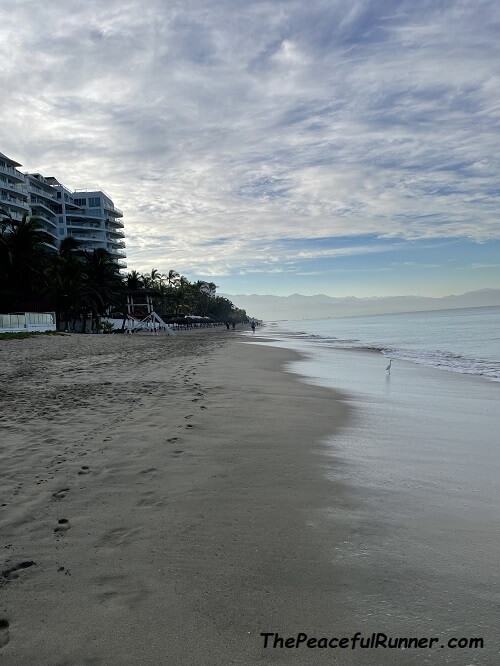 The beach, which sits on Banderas Bay, was amazing. It ticked all the boxes for a perfect, barefoot running on the sand experience. 

The beach was long and uninterrupted for many, many miles. I don't know exactly how long because I had only one opportunity to run and I ran in the southern direction (see photo above). Looking to the north in the other direction was much longer (see photo below). The sand was firm and the beach was wide enough to run on, even during high tide.  The widest part of the beach seemed to be at the southernmost end, so I chose to run in that direction.  
The sun sets over the beach in the evening, which means it's shaded in the morning. This orientation gets another check from me as I prefer to run in the morning during the more comfortable, cooler temperature the shade provides.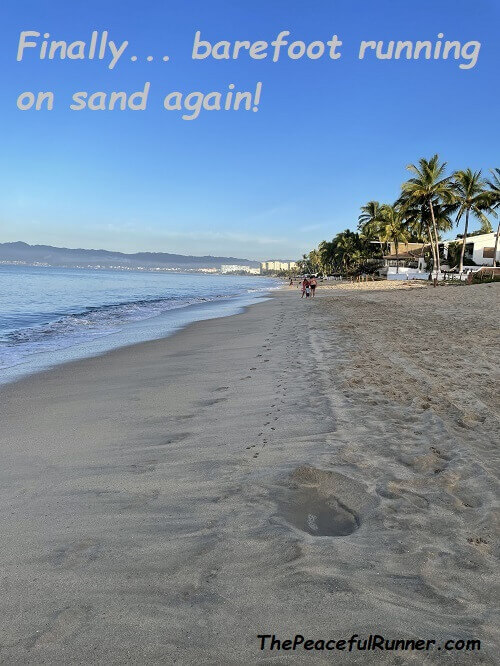 If on the off chance that you prefer not to run on the beach, Nuevo Vallarta also has a great running/walk track alongside its quiet road, which also runs for miles and miles. I am already looking forward to going back to this area to do more running on the beach. 

If barefoot running is new to you and you want to try it on a beach, start with very short running segments. Try running with your shoes on for most of the run and then in your bare feet for a short distance at the end. If there are no problems, you can slightly increase the distance next time. However, if you feel any twinges, pain or discomfort, stop immediately. Barefoot running feels amazing, but it requires time and patience to adapt to this way of running.
Perfect Beach Conditions for Barefoot Running on Sand
When I lived in Southeast Asia, I had many opportunities to run barefoot on sand. There were many beaches in Thailand and Malaysia that were a pleasure to run barefoot on. Some were better that others and in comparing them, I compiled the following requirements for the 'perfect' barefoot running on sand experience:
1) The beach has mostly firm sand so it's not too difficult to run on. If the sand is very soft and deep, running will be very slow and difficult. The firmer the sand, the better!
2) A beach that is long and uninterrupted means less repetitions of the same stretch of beach. Some beaches have natural or man-made breaks along the beach that are not passable, which means we are stuck with running a short distance over and over.
3) The beach needs to be wide enough to run on, even during high tide. If the beach is narrow during low tide, it will be impossible to run on during high tide. 
4) Ideally, the beach is flat and level. Some beaches are often very windy and the sea is rough and choppy. These conditions can cause the beach to develop a steep slope away from the land, creating a more difficult and uneven running surface.
4) I think having shade in the morning and sun in the evening on the beach are more enjoyable conditions. As I mentioned, I like to run in the morning so I can then relax and enjoy the beach the rest of the day. The shade makes it more comfortable for running in the morning, but having a sunset over the beach in the evening makes for the perfect ending to any day on the beach! 
So these are my requirements for the perfect barefoot running on the sand experience. Do you have any others to add to this list? If you do, please share in the comments. Also, if you know of other areas with firm, sandy beaches that are great for barefoot running on sand, please tell us about that too. We may check them out for ourselves :) 
Note: Nuevo Vallarta (might get renamed to Nuevo Nayarit?)
Back to the top of Barefoot Running on Sand
Return to Running on Vacation
FTC Disclosure: As an Amazon Associate, I earn from qualifying  purchases.
Learn more.


NEW FEATURE - DISQUS COMMENTS!
Be the first to comment.
Login using Facebook, Twitter, Google or Disqus.