Running in Puerto Vallarta and
Boca de Tomatlan, Mexico
Running in Puerto Vallarta and in Boca de Tomatlan, Mexico, can be  challenging. The beaches are short and narrow with soft sand and most of the roads are busy and without sidewalks, but I found a few options that worked for me so I could continue to run while on vacation there! 
My vacation in Mexico included a three week holiday in the Puerto Vallarta area with my husband. As always, I wanted to do some running during my holiday. Running in a new area is a great way to explore it; and for me, it is one of the highlights of being on vacation!
We stayed in three different locations and each of them had their various challenges and solutions and one of them provided a new option that I had not considered before.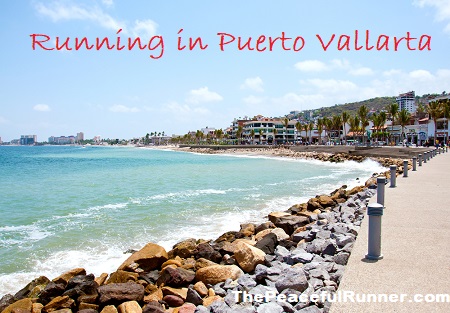 Zona Romantica
The Zona Romantica is a trendy area located in the southern area of Puerto Vallarta and it is also known as the Old Town. With its cobblestoned, busy streets and narrow, uneven and sometimes non-existent sidewalks, trying to run through the streets wasn't a very safe or appealing option for running in Puerto Vallarta. 
Fortunately, we were staying close to the Malecon, a wide promenade that runs alongside the beach with lots of interesting sculptures, shops and restaurants along the way. With a cool morning breeze from the ocean, it is a great choice for an easy morning run. However, it is only about 2 kms in length so you will need to run it more than once to get some distance.  Chances are you will meet a few other runners along the way making the same choice for their morning run!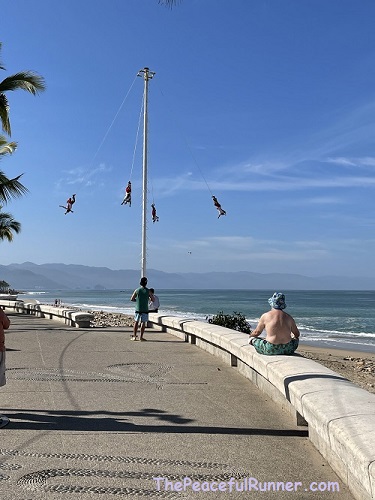 Street performers on the Malecon, Puerto Vallarta
Zona Hotelera
The Zona Hotelera is more centrally located in Puerto Vallarta and I found a few different options for running here. We were staying within running distance to the marina so I ran there one morning to check it out. As it turns out, it is a popular area for runners and well worth a visit, even when not running. There are lots of buzzy restaurants and bars there and our favourite place for food and drinks became Chappy's!
Unfortunately, the marina isn't very long so you will need to run it a few times to get distance. To get to the marina from where I was staying, it was necessary to run along the main road, which was very busy and the sidewalks were narrow and disappeared in places. I decided to investigate other possible options for my next run. 
I found a river walk that wasn't far from where we were staying. The walk starts across the main street from La Isla Shopping Village. This walk is very popular in the morning with other runners and lots of dog walkers. Again the river walk is not very long so repeats are required or you can create a loop, which was my preference. I ran up a street named Maria Montessori, joined the river at the top and ran back down as you can see from my Garmin screen shot below. I added on an extra loop at the end to make this route 9 kms.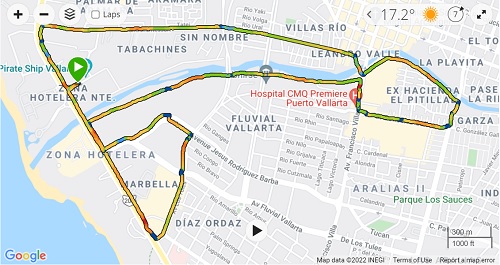 I also found another area that was suitable for running in this newer part of Puerto Vallarta. There are a number of streets above the main road that are newly constructed and have wide roads and proper sidewalks. There is lots of open green space surrounding these streets, which made them very enjoyable for running. The area I am referring to is close to Costco store and includes the following streets: Avenue Jesus Rodríguez Barba and Avenue Fluvial Vallarta. 
However, a word of caution - be sure to take your phone so you don't get lost. Many of these streets look very similar and it's easy to get your direction confused as I did! I needed to refer to Google Maps more than once  :) 
Running in Boca de Tomatlan
Running in Boca de Tomatlan was the most challenging of all these areas. We stayed there for one week and I really thought I wasn't going to be able to run there at all. Boca is a beautiful, small fishing village with a working port. Many tourists stop here on their way to Yelapa, a popular tourist destination, which is only reachable by boat. 
There are very few streets in Boca and the main road leading there is extremely busy, narrow and without sidewalks. However, there is a very rugged trail that leads from Boca to Colomitos Beach and beyond. It is very popular for dedicated hikers with lots of steep climbs and drops. I hiked the trail as far as Colomitos, which is about one mile; but for me, personally, I would not have enjoyed running it, especially by myself.
If you are up for a very challenging run or an interesting hike, you can read more about it here: Running from Boca de Tomatlan to Quimixto Falls. 
On my fourth day in Boca de Tomatlan, I finally found an option for running that suited me, and it was a new one that I hadn't considered before. I discovered a soccer/football field that was not being used. It was less than 1/2 km around the perimeter so it meant doing numerous laps, but hey I was desperate and I needed to run! 
The field is located just along the path on the other side of the river. After crossing the bridge, turn left and after about 100-200 meters you will find a few steps that lead up to the field . 
Here is me running around the field. Happy at last—running in Boca de Tomatlan! 
Enjoy Running in Puerto Vallarta!
My husband and I took this holiday in January 2022 and we were so happy to be able to travel and visit Mexico again. All my running in Puerto Vallarta was done in the early morning as it is much cooler then. In January, daylight arrives around 7:30, but by 9:00 the sun is high and it gets hot very quickly. I suggest starting to run before 8:00 am during this time of year. 
I hope this article has been useful in helping you to experience running in Puerto Vallarta and Boca de Tomatlan.  If you have additional suggestions, please share them here.  I hope you enjoy running in Puerto Vallarta as much as I did! 
Update 2023: Barefoot Running on Sand in Nuevo Vallarta
Every holiday location provides its own challenges for running. Check out this article for many more tips to help you to keep running on vacation!

Share your Running on Vacation Adventures!
Back to top of Running in Puerto Vallarta
FTC Disclosure: As an Amazon Associate, I earn from qualifying  purchases.
Learn more.


NEW FEATURE - DISQUS COMMENTS!
Be the first to comment.
Login using Facebook, Twitter, Google or Disqus.