Are you Ready for
Winter Running?


October 2020--

The Peaceful Runner Newsletter #120

Dear Friends, ready for winter running
Winter is coming! Are you ready to run during the season that is most beneficial for runners? Enjoy all the benefits of winter running and find out all you need to know to run comfortably and safely during the cold winter months. 

---
Have you noticed our new logo yet? Fresh out of the oven and baked up by the super talented, Lou Black. I think it perfectly captures the concept of our website:  Running injury free as a Peaceful Runner! 

---
Get Ready for Winter Running
Running during the winter has more benefits than any other time of year. The cold temperature effects our body differently, resulting in many training and health benefits for runners. We just need to ensure we feel  comfortable by dressing appropriately and running safely. 
If you have not run in winter before, give it a try and find out just how much fun it is and how good it makes you feel. Winter running builds character! Learn how to enjoy all the benefits of winter running.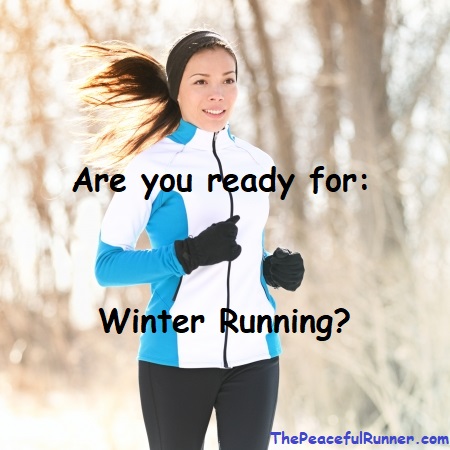 Waterproof Running Shoes
Have you tried waterproof running shoes? They can help us feel warmer, drier and more comfortable on those cold wet days. 
Read more about these practical shoes and how to identify them: Waterproof Running Shoes
Motivation for Winter Running 
Keep an eye out for our new book coming soon: How to Get and Stay Motivated for Running! 
It will help you stay motivated to run all during the year and get through the rough patches when you really don't feel like running!


Discover the 5 Surprising Benefits of Cold Weather Running!
Click below to read more about how you can benefit from winter running and how you can enjoy it more comfortably...




Until next month, be happy, stay well and keep positive!
With love and blessings,
Jackie ♥
PS: If you find this information helpful and think it may be of interest to others, please be kind and share it!


Back to Top of Ready for Winter Running

---
If you have enjoyed this newsletter and would like to have it delivered to your Inbox monthly, you can subscribe here.
You can also:  
Like Us on Facebook

Follow Us on Twitter
Or share this page and/or add your comments below:


FTC Disclosure: As an Amazon Associate, I earn from qualifying  purchases.
Learn more.


NEW FEATURE - DISQUS COMMENTS!
Be the first to comment.
Login using Facebook, Twitter, Google or Disqus.