We are Celebrating 10 Years!

(Gift for you!)
September 2020--
The Peaceful Runner Newsletter #119


Dear Friend,
This month we are celebrating 10 years . . . ThePeacefulRunner.com is 10 years old!  Yay!  And we want to celebrate by giving you -- our valuable readers -- a gift to help you improve your running form to run easier, more efficiently and in many cases faster!
If you are a newsletter subscriber, you will have already received a link to download your gift. If you are not a subscriber, please subscribe below and download instantly!

---
Celebrating 10 Years with a Gift!
Over the past 10 years, we have grown from just a few webpages to host more than 250 free articles to help runners enjoy running more. We have sent out over 100 newsletters and we offer unique, specialized products to our readers.
We plan to continue to grow and expand, but we will always offer free, helpful and sometimes unconventional advice to our readers. We like to take an unusual, but effective approach to the skill of running injury free!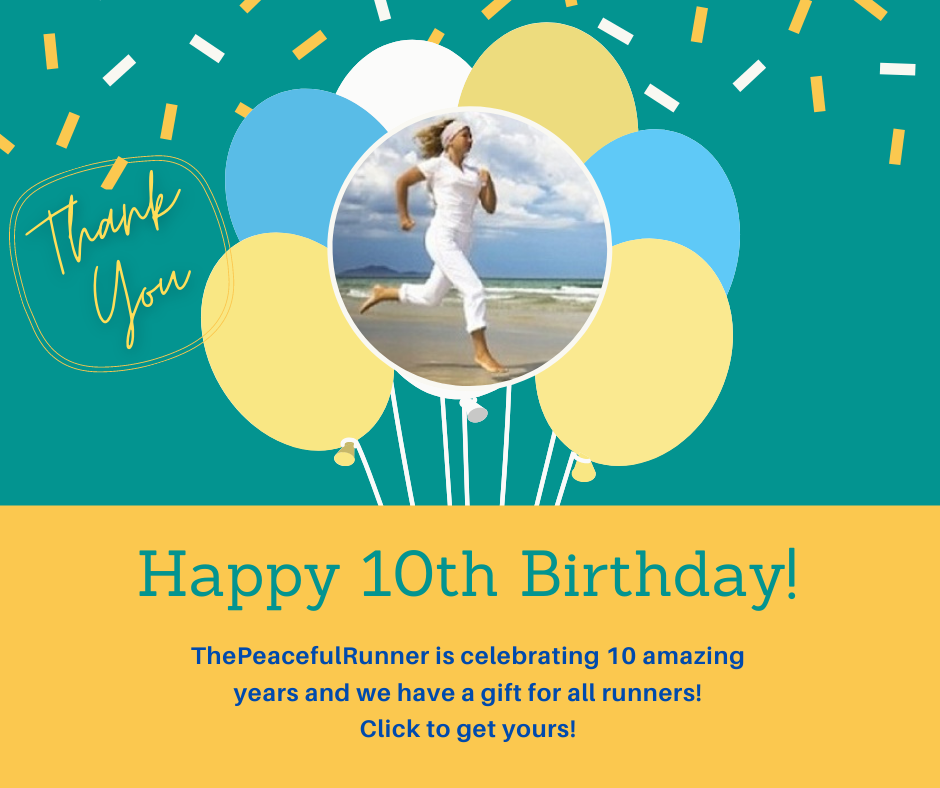 In celebrating 10 years of helping runners improve their running experience and reduce running injuries, we discovered that many are confused about the running form.  There are various aspects to a good running form and there is much confusion about most of them.  This is evident when you watch runners. There are so many different running postures!

Many runners are unsure of the following:  how should my foot land? Should I have a short or long stride? What about my arm swing and turnover rate? Should my knees be bent or straight? 

We decided to do something to address all this confusion and we created the Running Form Template!  And we want to give it away for free!
The Running Form Template takes the confusion out of how to run easier and more efficiently. It summarizes the components of a good running form and explains them simply and clearly. It provides focus and suggests an easy way to implement changes without becoming overwhelmed. 
To get your copy, simply sign-up to receive our newsletter and download the template instantly! You can unsubscribe at any time.  


Click below to read more about the Running Form Template and how it can help you...



Until next month, be happy, stay well and keep positive!
With love and blessings,
Jackie ♥
PS: If you find this information helpful and think it may be of interest to others, please be kind and share it!


Back to Top of Celebrating 10 Years


---
If you have enjoyed this newsletter and would like to have it delivered to your Inbox monthly, you can subscribe here.
You can also:  
Like Us on Facebook

Follow Us on Twitter
Or share this page and/or add your comments below:


FTC Disclosure: As an Amazon Associate, I earn from qualifying  purchases.
Learn more.


NEW FEATURE - DISQUS COMMENTS!
Be the first to comment.
Login using Facebook, Twitter, Google or Disqus.