Vipassana Meditation Can Help You Run Injury Free!
Vipassana meditation, also known as insight meditation, can help you run injury free. It develops the mind and body connection and teaches us how to give attention to the physical sensations we experience while running. You can experience increased body awareness and tranquillity through self-exploration and self-observation. You will develop a healthy mind, resulting in a healthy body.  
When you observe sensations in the body with mindful awareness, you will understand the nature of these sensations and develop non-attachment to them. You will become impartial to these sensations and will not react when they arise.  
When you feel pain while running, you will respond with a calm indifference. You will observe the sensation and notice how it changes as it is observed. You will be able to let go of the desire to be rid of the pain. With this heightened sense of awareness and unbiased attitude towards the sensation, the pain will diminish or disappear.
Ancient Meditation Technique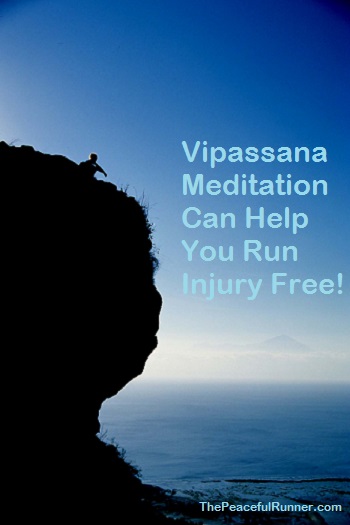 Vipassana medication is one of India's most ancient meditation techniques. Although a non-secular practice, it was taught by Buddha with the purpose of removing mental impurities and human suffering to achieve ultimate happiness.  
Today, the problems, conflicts and challenges that we deal with every day have placed a tremendous amount of stress on us mentally and physically. Insight meditation can free us from burdens and suffering so we can enjoy peace and harmony.
The Purpose of Vipassana Meditation
Healing, both emotionally and physically, is the purpose of vipassana. The causes of suffering that come from within must be removed for healing to happen. The mind becomes purified with acceptance of what is.  
There are no judgments or opinions as focus is placed on the present moment. Happiness and contentment are achieved as moods and external experiences have no affect. This is the essence of vipassana.
Vipassana teaches us to understand the phenomena within our own bodies. For example, how do we react to itchiness? Can we note the sensation and not react to it?  
All sensations should be noted to achieve a higher sense of awareness. Where does the itch come from? Is it similar to a muscle ache while running? Where does that ache come from? If we concentrate on this sensation with detachment to the outcome, does it go away?
Start Meditating Today!
Practicing vipassana meditation will not only improve your running experience, but also your overall well-being and happiness.
Inner Body Awareness is another form of meditation that has many benefits including improved running, slowing the aging process and improved conversation skills.
The Vipassana Dhura Meditation Society has a wonderful site about vipassana. It provides in-depth instructions and a number of exercises to practice this type of meditation. You can start meditating today.
To learn about other types of meditation, visit Learn to Meditate.
Back to top of Vipassana Meditation

Return to Running and Meditation
FTC Disclosure: As an Amazon Associate, I earn from qualifying  purchases.
Learn more.


NEW FEATURE - DISQUS COMMENTS!
Be the first to comment.
Login using Facebook, Twitter, Google or Disqus.