Why Do We Experience
Running Pain?
Where does running pain come from? We can run for weeks, months, even years without pain. Then it hits us from out of the blue! We have to stop running for weeks or months and nurse our bodies back to health.
Where did this pain come from and why is it showing up now? Is it really just a physical weakness or could it be caused by something else?


What is Running Pain?
First of all, what is pain? Scientific American magazine published an article entitled, "Is Pain a Construct of the Mind?" They make a good case for questioning the source of pain based on the habits of Dennis Rogers, considered pound-for-pound the world's strongest man. 
Dennis is an average size man who can do extra-ordinary feats of strength, such as rolling up frying pans and preventing two fighter jets from taking off in different directions. He has an abnormally high number of muscle fibers but he also has an unusual way of dealing with pain--he has no fear of it. He doesn't care if it hurts and he rarely gets injured. In Dennis's mind, pain is something not to be concerned with.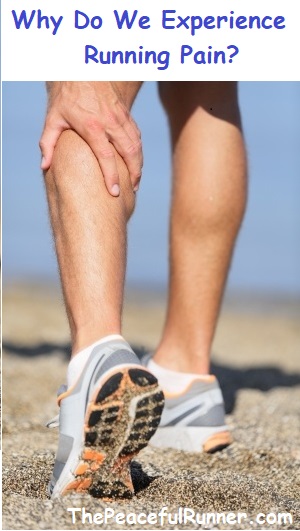 The Power of Thought
This brings us to the power of thought and the effect it can have on our bodies. We need only look at all the evidence which supports the legitimacy of the placebo effect to realize that what we think and what we believe to be true can have an incredible effect on our bodies. 
So what do we believe about pain, particularly the pain we feel as a result of running? Is it solely a weakness in our body or could our thoughts play a part in the creation of pain?
Quantum physics, the study of subatomic particles, has shown us that even the smallest particles are made up purely of energy. These particles are present in everything--all physical forms including furniture, food and our bodies. If our entire bodies are just vibrating particles of energy, what causes a change to take place in our physical condition?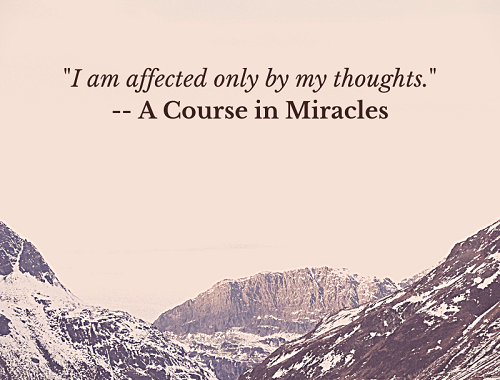 The work of Epigeneticists have shown that our cell activity is not just based on our genes but also largely on our environment which includes our emotions, thoughts and beliefs. 
Based on the possibility that running pain could be created by our thoughts, perhaps we could examine the thoughts and feelings that we were experiencing when we initially felt pain.
If it is possible that we somehow played a part in the creation of running pain, it is also possible that we can play a part in the prevention of and recovery from running injuries. 


Run Injury Free
This concept provides the wonderful potential of running injury free. If we no longer look to our bodies for the cause of our pain--a weakness somewhere in the body--then we are no longer victims of our body's limitations or our genetics. We can begin to look to our thoughts and emotions and ask ourselves, "What part did I play in the creation of this pain or injury?" Taking responsibility puts us back in the driver's seat!
Positive thoughts and beliefs will have a positive effect on the health of our bodies and negative thoughts and beliefs will create the opposite.
We have the power to change our thoughts every minute of every day, regardless of what is happening. When we can accept this fully, we can experience peaceful, painfree running every time. 
What do you think about the source of running pain? Please share your thought in the comments below.


You may also be interested in:
How Do You Deal With Running Pain?
Back to top of Running Pain
Return to Prevent Running Injuries


FTC Disclosure: As an Amazon Associate, I earn from qualifying  purchases.
Learn more.


NEW FEATURE - DISQUS COMMENTS!
Be the first to comment.
Login using Facebook, Twitter, Google or Disqus.