The Peaceful Runner Newsletter #40




January 28, 2014





Can You Handle Cold Weather Running?





Hello,
Happy New Year and welcome to our January Newsletter: Can You Handle Cold Weather Running?
With the deep freeze that much of North America has been experiencing, I thought I would share my running in cold weather experience with you.
As always, we welcome your feedback, comments and suggestions here: Contact Us or add your comments below.
In this issue:
1) Quote of the Month
2) Can You Handle Cold Weather Running?
3) Our Latest Guided Running Meditation
4) Recipe of the Month: Hearty and Spicy Vegetable Soup
---
Quote of the Month: 
"You have to leave the city of your comfort and go into the wilderness of your intuition. What you'll discover will be wonderful. What you'll discover is yourself."
-- Alan Alda
---
Can You Handle Cold Weather Running?
Earlier this month I visited my home town in Eastern Canada where they are experiencing exceptionally cold temperatures as are many parts of North America. I admit I had great difficulty running in -15°C (5°F) temperatures as I have been living in hot Singapore for the past few years where the usual temperature range for the entire year is 25-39°C (77-102°F). My body is no longer used to cold weather running especially in such extreme cold temperatures.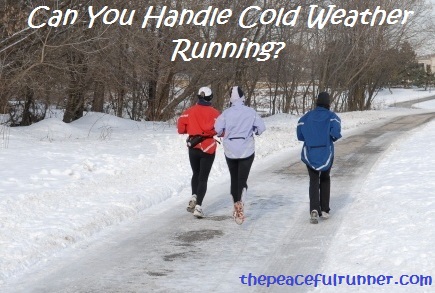 It was immensely difficult for me to run when it was so cold. Cold winds, snow and ice underfoot, cold feet and heavy layers of clothes were other factors that contributed to the difficulties I was experiencing. My breathing was greatly affected. Normally, I can breath using only my nose (normal pace) when running, but on this cold day I found myself gasping for air and breathing in and out through my mouth. Breathing this way was quite stressful and uncomfortable as it made my throat feel very dry. Running into the wind and up hills were other factors that contributed to breathing difficulties. 
My body was resisting these cold weather running conditions and in doing so, my body became extremely tense and unable to breath and run as easily as I would normally do. 
Holding stress and tension in the body while running can greatly increase your risk of injury. Even if you don't develop an injury, your muscles will become stiff and sore later. 
When I finally became aware of what was happening and realized that I was resisting this cold weather running and thereby making this run much more difficult for myself than necessary, I began to apply two techniques which I found to be very helpful. (Resistance always creates stress in one form or another.)
First of all, I needed to relax my body so it could move easier. I began to practice relaxation techniques that I have used many times when learning How to Relax While Running. Once I became aware that my body was tense, it became quite easy to relax. It helped keep my muscles from becoming sore after the run.
Secondly, I began to practice Visualization Techniques to help warm my body. Actually most of my body was fairly warm as I was dressed in layers, but my feet were really cold and practically numb in my New Balance Minimus, which did nothing to help keep my feet warm. 
First, I imagined a fire burning in my belly and the heat moving into my feet. This required a lot of concentration and it was very difficult to do. I did start to feel warmer, but my feet were still cold and numb. Then I imagined that I was wearing very warm socks as if they had just been taken out of the clothes dryer. After a short time, I began to feel the numbness leave my feet. They were getting warmer and I felt much more comfortable.
I am now back in warm Singapore and looking forward to some hot, sweaty running again. 
For all of you who are affected by the cold snap, please be careful and stay safe while running outside. Pick a safe place to run especially if there is lots of snow and ice in the streets and please use common sense regarding the cold temperatures. Sometimes, it is best to just find an indoor track, use a treadmill or dare I say it, miss a run!
Read more about the benefits and hazards of Cold Weather Running.
---
---
Hearty and Spicy Vegetable Soup

This hot and spicy soup is so tasty and satisfying, I had to share the recipe. I was served this soup at my son and his girlfriend's home as an appetizer when I visited during the holidays. They served it as an appetizer but it was so filling, I didn't have room for much else. 
Ingredients:
1 tbsp olive oil
2 onions, chopped
2 cloves garlic, minced
1 green bell pepper, chopped
1 red bell pepper, chopped
1 can chopped green or red chili peppers, drained
1 zucchini (courgette), chopped
1 cup frozen corn
3 green onions, chopped
1 can (28-oz) crushed tomatoes
3 tbsp ground cumin
1/8-1/4 tsp Chili flakes 
3 cups vegetable broth
1 can (14-oz) black beans
salt and pepper to taste
Method:
Heat oil in a large pot over medium heat. Add onions and garlic and sauté for 3 minutes. 
Add peppers, zucchini, corn, and green onions to pot and continue to sauté for another 10 minutes. 
Add crushed tomatoes, cumin, chili flakes and vegetable broth. Season with salt and pepper. Stir well and let simmer for 30 minutes. Add beans during last 5 minutes of cooking. 
Serve and enjoy.
This recipe has been modified from its original version at http://ohsheglows.com/
---
Until next month, keep running and stay safe, happy and peaceful!
Jackie 
---
If you have enjoyed this newsletter and would like to have it delivered to your Inbox monthly, you can subscribe here.
You can also:  
Like Us on Facebook

Follow Us on Twitter
Or share this page and/or add your comments below:


FTC Disclosure: As an Amazon Associate, I earn from qualifying  purchases.
Learn more.


NEW FEATURE - DISQUS COMMENTS!
Be the first to comment.
Login using Facebook, Twitter, Google or Disqus.