Stop a Charley Horse Instantly!
If you have ever experienced a charley horse (calf muscle cramp), you know how painful it is. If not stopped immediately, it becomes more painful and the muscle becomes sore. It needs to be stopped instantly and I know how!

These sudden, involuntary muscle cramps are usually triggered by mineral deficiencies, dehydration, or overuse. They are common among runners as exercising can sweat out the minerals (electrolytes) our muscles need. The mineral deficiencies commonly include sodium and potassium. 
If you tend to get leg cramps, be sure to stay hydrated and replenish your electrolytes with sports drinks, increase your sodium, and eat potassium-rich foods, such as bananas and sweet potato.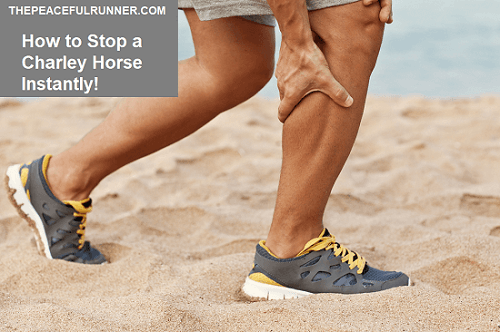 A charley horse can happen while running, soon after finishing, or during the night or early morning when the muscles are relaxed. Night time cramps are a problem for me and they occur without warning. The pain is immediate and excruciating. If not stopped immediately, the muscle becomes sore.  So how can we stop these cramps asap?
The best remedy is to immediately stretch your calf and the fastest way to do this is to stretch using your heel. You can do this lying down so you don't need to jump out of bed in the middle of the night! 
Quickly and firmly push your heel away from your body. Your ankle will flex and your toes will be angled towards you. 
Oftentimes, just prior to getting a night time charley horse, I noticed that I had been trying to stretch my legs with my toes pointed. To stop the cramp, I did the opposite and stretched from the heel.  This instantly relieves the cramp and it works every time. I am so glad I found this solution as there are periods of time in which I experience them quite frequently. 
Preventing a Charley Horse
This quick stretch has been a great help to me, but the best solution is not to get these muscle cramps at all. If you experience them regularly, check if you are drinking enough fluids, but don't overdo it. Too much water can also cause cramping because it depletes our sodium levels. 
I tend to get leg cramps more often in hot weather. This is an indication that I need to increase my sodium and potassium levels, but I really don't mind too much. I love sweet potato fries with lots of salt :) 
Read more about: What causes a charley horse


What about you? Have you experienced a charley horse? What works best for you? Please share in the comments below.
Back to top of Charley Horse
FTC Disclosure: As an Amazon Associate, I earn from qualifying  purchases.
Learn more.


NEW FEATURE - DISQUS COMMENTS!
Be the first to comment.
Login using Facebook, Twitter, Google or Disqus.