Is running injury free for the rest
of your life important to you?
It is to me. See what I have discovered on my quest for running injury free...

If you are like me, you love to run. I love it because it is so easy to make part of my weekly routine. It gets me outdoors to enjoy the fresh air and I can do it anywhere or anytime, even when I am travelling.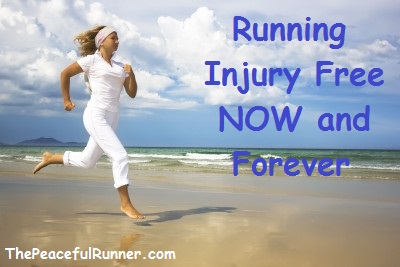 Running gives me energy and I feel great. It allows me to eat the foods I want and still fit into my jeans. I want to keep running for a very, very long time - actually my goal is to be running injury free for the rest of my life.

I want to run and train without experiencing pain and injury. If I am training hard and running long distances, I want to feel good both during and after running. I want my body to work the way it was meant to work -- strong, relaxed, efficient and pain free, like a well-oiled machine...like a peaceful runner!

If you feel the same way that I do about running pain and injury free, take a look around my site and you too will be on your way to running injury free for the rest of your life.


Running Injury Free and
Without Pain
Most running sites concentrate on the traditional methods for recovering from injuries. This site will help you learn how to run mindfully, with awareness of how your body should move so that you don't feel pain resulting in injuries.

I used to be a regular patient of physiotherapy, massage therapy, and chiropractic medicine -- all of which were helpful in dealing with the soreness, but I wanted a solution. I wanted to run without pain, so that these treatments would not be necessary.

There is a strong connection between the mind and body where optimal energy and wisdom can be accessed. We can learn how to use our minds to teach our bodies how to move efficiently and effectively, resulting in -- running injury free!

Become a More Efficient Runner
I have learned how to keep my body pain-free using:
I have also improved my running posture and learned how to move my body in the most efficient and most effective method through the Feldenkrais Method using Feldenkrais Exercises. As a result, I have noticed that I am not only running without pain, but because I am running more efficiently and using less effort, I am running faster. What a pleasant surprise that was!
Since I started running, I have been lucky not to develop a serious injury but my body hurt after running long distances. When I trained for a marathon in 2008, I experienced tremendous soreness in many parts of my body. When arising in the morning, it was difficult to move as a result of the stiffness in many of my joints and the numbness in my hips. I knew if I didn't change something soon, it wouldn't be long before I would have a serious problem. I was determined to continue running and to find a solution.
Mind and Body Awareness
I used to be a strong advocate for stretching, stretching and more stretching. So much so, I was dubbed the "queen of stretch." I stretched after I ran, I stretched on my days off running (sometimes for an hour or more), and I stretched many times throughout the day. I was trying to relieve my stiff, achy muscles.
These days, I rarely stretch. I don't feel the need to stretch like I used to. Running doesn't hurt my body anymore since I have learned to access mind and body awareness.
If you are currently suffering from an injury, check out How to Prevent Injuries and the Tapping Solution to help you recover quickly. 
Also, check out the links on the left to learn how you too can be running injury free!
Visit my Facebook page!

Get all the inspiration and running motivation you need as well as the latest news from this site and the rest of the running world. Be sure to "LIKE" our Facebook page once you get there!

Feel free to add comments and share them with your friends! Be sure to log in to your Facebook account in order for your "LIKE" to show on your Facebook wall.

Visit my Google+ Page