The Most Comfortable Way To Carry Your Phone While Running
Are you frustrated with phone carriers for runners that are bulky and uncomfortable? Phone while running
Do you wish there was a simpler, more discreet way to carry even your large phone when running? 
Video

A Better Way to Carry Phone While Running
Like you, I struggled to find a comfortable, less noticeable way to carry my phone while running. The armband style just kept slipping down my arm and belts were uncomfortable and obtrusive.  
I wanted a phone carrier that was quick and easy to put on, while also being comfortable, discreet and secure.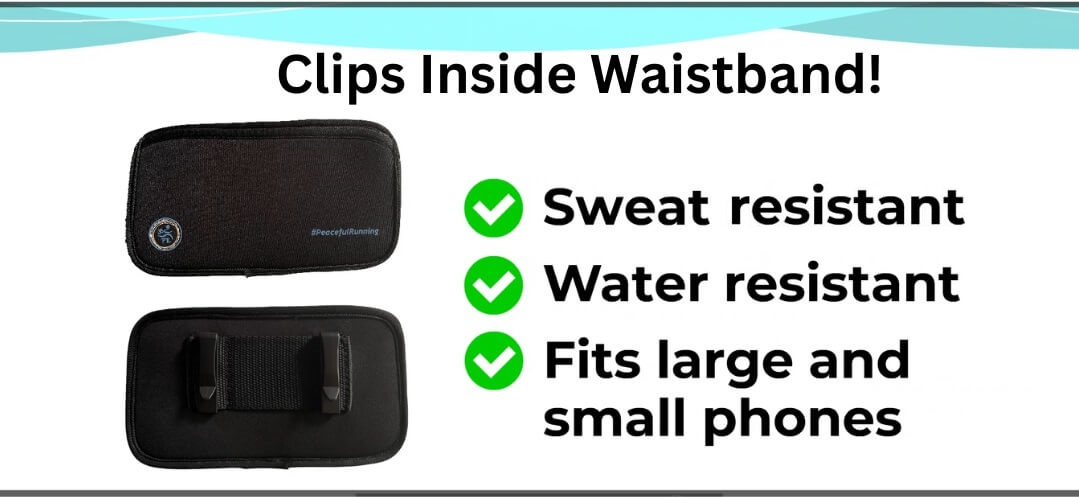 I have bought numerous runners phone holders over the years, but I wasn't happy with any of them. I decided to make my own.
I had a simple design in mind, so during the pandemic when I had lots of free time, I created a homemade version of my design that could comfortably accommodate my large phone. At the time, I owned an iPhone 7 Plus, which was pretty large and heavy!
I was so pleased with how quick and easy it was to put on; and it was so comfortable, that I forgot I was wearing it! It worked so well that I decided to have it manufactured and make it available to all runners!
And here it is....
The #PRPocket for Runners!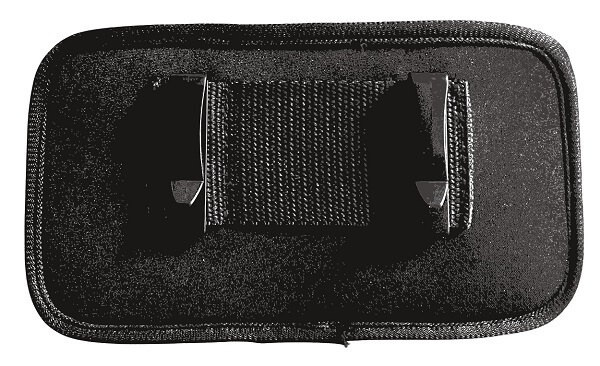 The #PRPocket has a Unique Design.
- It is slim and tailored making it a comfortable, discreet accessory for running.
- It easily clips to your waistband with the pocket on the inside keeping your phone securely in place.
- It is quick and easy to put on and is barely noticeable, not like belts or armbands. 


The #PRPocket was comfortable to run with. It fitted well and felt snug. 
~ R. Seabrook ~
The #PRPocket's Universal Fit was designed to accommodate all sizes of phones -- both small and large. 
- Even today's larger phones are not a problem! 


I have a fairly large Samsung Galaxy in a case, so I need quite a lot of carrying capacity.  This phone carrier coped perfectly well with it.
~ R. Seabrook ~
The #PRPocket is Versatile!
- This inner phone pocket simply and discreetly tucks into the inner waistband of all your running clothes.
- You can wear it on the front either side or on the back.


I loved the way it tucked into my running tights and didn't move around. Very neat. 
~ D. Ford ~
The #PRPocket is made from Quality Materials.
- It is made from sweat, water, and odor resistant neoprene, which is comfortable to wear and protects your phone.  
- Sturdy clips keep your phone securely in place. 


Easy Care:
Hand wash in lukewarm water with a mild soap. Air dry. 


A Simple Solution
The #PRPocket is the simple solution you have been looking for. It is quick and easy to put on, comfortable, discreet, secure, and not bulky like the others. This is the phone holder for running you have been looking for!
Only £17
FREE SHIPPING UK
Contact Us for International Shipping

Limited Quantities
Get the #PRPocket now and you will never again use a bulky, uncomfortable phone holder while running.



30-Day Money Back Guarantee
If you are not completely satisfied with the #PRPocket, simply return it within 30 days of receipt for a full refund. 
Dimensions: 190mm  x 105 mm
Weight: 46g 


By purchasing this product you accept our Terms and Conditions.
Purchases are shipped by UK Royal Mail. Delivery estimates are 4-6 business days to Europe and 8-10 business days outside Europe. 
Items are normally dispatched within 48 hours of ordering. 


Click here for our no quibble Returns Policy. 


Questions or Comments?
Please use the Contact Me form or email me. I usually respond within 24 hours. 

Back to top of Carry Phone While Running