Hello



Welcome to the March edition of The Peaceful Runner Newsletter - your free monthly resource for inspirational articles and quotes, delicious recipes and the latest news and trends in running.


In this issue:

1) Quote of the Month
2) Article: New Running Gear
3) Gifts for Runners
4) Recipe of the Month: Easy Baked Beans

---
Quote of the Month:

"What you think of yourself is much more important than what others think of you."

-- Seneca


---
New Running Gear

How long has it been since you treated yourself to some new running gear? My Vibram Five Fingers and my Nathan hydration belt were both in desperate need of replacing so I treated myself to new stuff.

Vibram Five Fingers shoes don't need to be replaced as often as traditional running shoes as there is no cushion or padding to wear down. However, mine were well-worn as the tips on the toe pods had begun to let go from the toes and there were also a few tears in the fabric. Running through the jungles in Singapore can really test a pair of running shoes. (As you probably know I am a member of the Singapore Hash House Harriets.

So I bought a new pair of Bakila LS (see photo below) in my favorite colour red. I prefer the Five Fingers to have laces as I think they are more comfortable than the fully enclosed style with straps.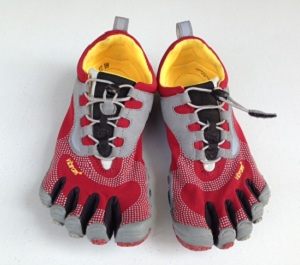 My hydration belt had also seen better days. I already had it repaired once as the elastic had stretched so much, it had become too loose and the bottles would fall out. When the zipper on the pouch broke off because it had rusted, I knew it was time for a replacement. However, I had used it for over four years so it has served me well.

I liked the brand and style so much that I bought the same style again--just in a different colour. My belt is a Nathan Trail Mix hydration belt with two 10 oz bottles. It also has a large stretchy zippered storage pocket to carry all the stuff you might need on the trails, i.e. phone, fuel gels, keys, cards, bandages. Here is a picture of my new fuel belt. Notice how it is also red and matches my new shoes...love them!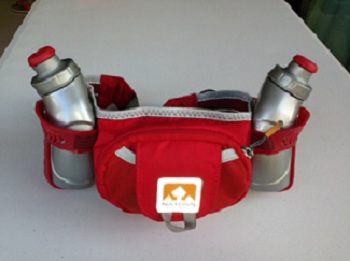 If you are interested in replacing your gear, check out the selection at Amazon:

Vibram Five Fingers
Nathan Trail Mix Hydration Belts
Running Gear
---
Recipe of the Month: Easy Baked Beans

Looking for an easy baked beans recipe? This dish has so much flavour, but you only need canned beans so it is quick to prepare and cook compared to most baked bean recipes. If you can't find the specific beans mentioned, try other types. Just try to include a variety.

Easy Baked Beans

Ingredients:

1 (15 oz) can baby lima beans, drained
1 (15 oz) can butter beans, drained
1 (15 oz) can kidney beans
1 (28 oz) can pork and beans
1 tsp. garlic salt
½ cup brown sugar (adjust to your taste)
1 cup apple cider vinegar
1 tsp. dry mustard
2 large onions finely diced

Directions:

Preheat oven to 325 degrees.
Choose ONE of the following to add protein and flavour to your baked beans: ½ pound of diced raw bacon, 1 pound of cooked sausage, OR 2 pounds of cooked ground beef.
Place all ingredients in a large casserole dish. Bake uncovered for three hours. Stir occasionally.
Enjoy with freshly baked bread or crispy hash browns.
---
If you have enjoyed this ezine, feel free to share it with friends. If a friend has forwarded this to you, you can subscribe here.

Keep peaceful and keep running injury free,



Jackie

ThePeacefulRunner.com

facebook.com/thepeacefulrunner

PS: Feel free to contact us anytime here.
---
Subscribe to our RSS Feed. Not familiar with an RSS Feed? Check out What is RSS?

Are you following us on Facebook? Click below to see what you've been missing!