FTC Disclosure:  Some links in this page may be affiliate links. What this means is that I may receive a small commission if you wish to purchase at no added cost to you. Learn more.
I Need Waterproof Shoes For Running!
February 2018--
The Peaceful Runner Newsletter #89

Dear Friend,   
We hope you enjoy this month's newsletter -- Do You Need Waterproof Shoes for Running? It is that time of year when running can be cold, wet and miserable but your feet don't have to be. Keeping your feet dry and warm while running can make wet winter running almost enjoyable!
If you find this information helpful, please be kind and share it with your running friends!


---
Waterproof Shoes for Running
---

I need waterproof running shoes! Do you? Running during the winter months can be very uncomfortable with cold and windy conditions but if your feet get wet, it can be downright miserable! Sloppy snow and cold water puddles have a way of seeping into our running shoes. Waterproof shoes can help keep your feet dry, keep you safe in wet and slippery conditions and most importantly--keep you happy. However, there are a number of options to choose from so make sure you know what's available before you buy.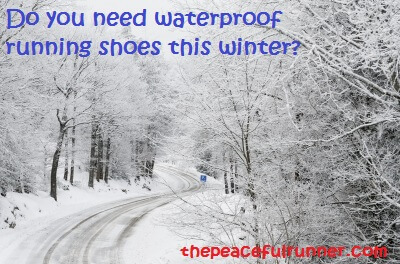 Waterproof running shoes are usually made from a waterproof, breathable material. The most common waterproof material for shoes is GORE-TEX®. It is essential that the upper is made from breathable fabrics to allow airflow to ensure your feet can breath while running.
Ensure that the shoes you purchase have non-slip, durable soles which offer reliable traction for wet and slippery conditions. You will feel much more confident running in heavy rain or wet snow when you don't have to worry about slipping.
Read on to learn how to identify waterproof running shoes, the many styles available and how to quickly dry wet shoes.




Until next month, keep running, smiling and be happy, healthy and peaceful!
With love and peace,
Jackie


Back to Top


---
Have you enjoyed this month's issue of our newsletter?  If you would like to have each new issue delivered directly to your Inbox, subscribe here.
You can also:  
Previous Issues of The Peaceful Runner Newsletter
FTC Disclosure: As an Amazon Associate, I earn from qualifying  purchases. Learn more.

If you like this page, please share it below or add your comments.