FTC Disclosure:  Some links in this page may be affiliate links. What this means is that I may receive a small commission if you wish to purchase at no added cost to you. Learn more.
Do I Have a Stress Fracture Injury?



July 2018--

The Peaceful Runner Newsletter #94

Dear Friend, radically transform running
We hope you find this month's newsletter interesting -- Do I Have a Stress Fracture Injury? -- and we hope it helps you on your quest for Running Injury Free! 
If you find this information helpful and think it may help others learn how to prevent running injuries, please be kind and share it!


---
Oh No! Do I Have a
Stress Fracture Injury?
---
What is a stress fracture? It is a small crack in any of the weight-bearing bones of the body. This injury is usually caused by a repetitive force that the body can't handle. It can occur in any weight-bearing bone but for runners, it most often occurs in the foot (metatarsal) or shin (tibia) bones. It can also be known as a hairline fracture or a fatigue fracture and a fracture in the foot is often referred to as a top of foot pain injury. 
These injuries are often referred to as fatigue fractures because they occur when the muscles become fatigued and can no longer absorb the stress and protect the bone. The bone cannot absorb the shock and cracks. It is a common injury among long distance runners and it is more common in women than in men. Women commonly experience bone density loss more so than men mainly because of menstrual irregularities.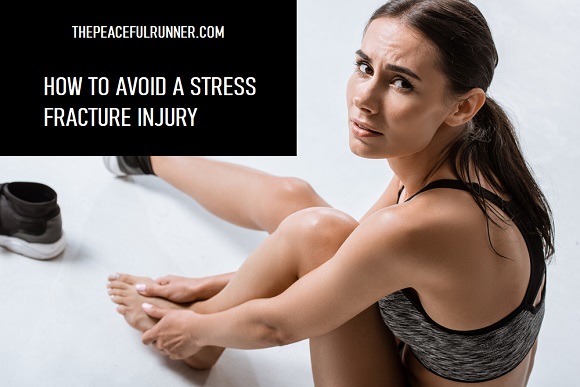 A stress fracture usually causes a bigger setback than soft tissue injuries. It usually requires at least six weeks off from running and it may take several months for bones to become stronger after experiencing a high level of stress. If you catch a stress fracture early on before too much damage is done, it is referred to as a stress reaction and may only require a few weeks off from running.
Read on to learn how to identify, recover from and avoid a future stress fracture injury...




Until next month, be happy, healthy and keep running!
With love and blessings,
Jackie ♥

Back to Top
---
Have you enjoyed this month's issue of our newsletter?  If you would like to have each new issue delivered directly to your Inbox, subscribe here.
You can also:  
Previous Issues of The Peaceful Runner Newsletter
FTC Disclosure: As an Amazon Associate, I earn from qualifying  purchases. Learn more.

If you like this page, please share it below or add your comments.