Running in Hot Weather



August 2019--

The Peaceful Runner Newsletter #106

Dear Friend,
We hope you are happy, healthy and running injury free! And if it is hot where you live at the moment, we hope this month's newsletter helps you to safely enjoy running in the hot weather!
If you find this information helpful and think it may be of interest to others, please be kind and share it!


---
Running in Hot Weather
Can be Extremely Difficult
And Even Dangerous
---
Running in hot weather is something that most runners have to contend with from time to time. It can be very difficult to run in hot weather and it can be even dangerous if you don't prepare properly.  
We have natural defense mechanisms to protect us from stressing our bodies in these conditions, which is why our bodies want us to slow down when we get too hot. We can do things to aid our bodies in preventing the onset of severe heat related illnesses and help ourselves to feel more comfortable and enjoy running in the heat as much as possible.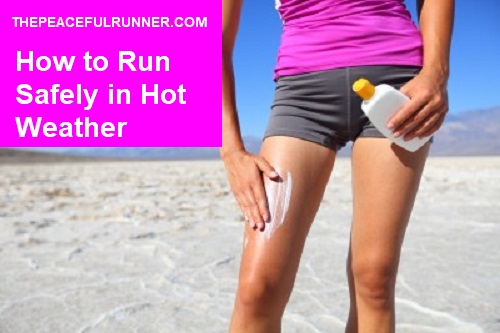 When we run in hot weather conditions, our core body temperature increases and this triggers the body's natural defense mechanisms. The body begins to send more blood to circulate through the skin to help it cool down. 
This means that the muscles receive less blood than normal resulting in an increased heart rate. Running begins to feel harder and there is more stress on the body.  When humidity increases, sweat remains on the skin making it more difficult for the body to cool itself. 
It is important that we adjust our speed when we run in temperatures that are hotter than our bodies are accustomed. If we push our body too hard, we may develop a heat related illness and some of these can be dangerous. Please watch for signs that you are overdoing it and use the following tips to prepare properly when running in hot weather.
Read on for tips on how to prepare for hot weather running and how to recognize the symptoms of heat related illnesses...




Until next month, be happy, healthy and keep running!
With love and blessings,
Jackie ♥

Back to Top of Running in Hot Weather

---
Have you enjoyed this month's issue of our newsletter?  If you would like to have each new issue delivered directly to your Inbox, subscribe here.
You can also:  
Previous Issues of The Peaceful Runner Newsletter