Running in Cold Weather Nl
5 Surprising Benefits of Running




in Cold Weather




January 2016--

The Peaceful Runner Newsletter #64

Dear Friend, running in cold weather
Happy New Year and welcome to January's newsletter -- 5 Surprising Benefits of Cold Weather Running!
If you enjoy reading this issue, please share it with your running friends and hopefully they will join you for a cold weather run soon!


---
5 Surprising Benefits of Running
in Cold Weather
---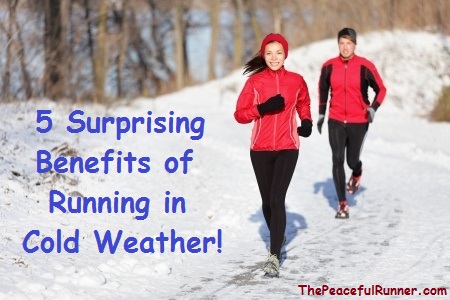 The most challenging part of running in cold weather is getting motivated to get out there and run. However, when you realize just how beneficial cold weather running can be for your body and improving your running performance, you may be eagerly awaiting your next cold weather run.



As always, keep running, smiling and be happy and peaceful!
With love and peace,
Jackie
Back to Top

---
If you have enjoyed this newsletter and would like to have it delivered to your Inbox monthly, you can subscribe here.
You can also:  
Like Us on Facebook

Follow Us on Twitter
Or share this page and/or add your comments below:


We may earn a commission for purchases using our links. Learn more.


If you like this page, please share it below or add your comments.