Are You Suffering from a
Runners Knee Injury?




October 2017--

The Peaceful Runner Newsletter #85

---
Runners Knee Injury
---
Dear Friend,  
We hope you enjoy this month's newsletter -- Are You Suffering from Runners Knee Injury? Continue reading to learn how to identify it, recover from it and prevent it from happening again!
If you find this information helpful, please be kind and share it with your running friends!

---
Runner's Knee Injury
---
Runners knee is a painful knee injury that runners experience when the cushioning cartilage under the knee cap becomes soft or worn and the knee cap no longer slides easily over the knee. A dull pain is felt behind or around the top of the knee cap. It is the most common of all running injuries and accounts for 16.5 percent of injuries.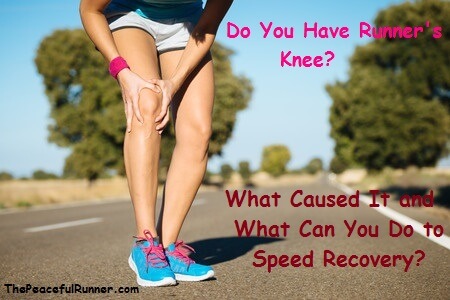 With runner's knee, the knee pain feels worse after running downhill or walking downstairs. You may experience swelling and inflammation and hear clicking or popping sounds when moving the knee as the knee cap is off track. Sitting for long periods of time will aggravate the condition.

Continue reading to learn how to recover from and prevent this very common running injury!




Until next month, keep running, smiling and be happy, healthy and peaceful!
With love and peace,
Jackie


Back to Top


---
Have you enjoyed this month's issue of our newsletter?  If you would like to have each new issue delivered directly to your Inbox, subscribe here.
You can also:  
Previous Issues of The Peaceful Runner Newsletter
Our Running Form Template Can Help You Run More Efficiently!
Instant download!
FTC Disclosure: As an Amazon Associate, I earn from qualifying  purchases.
Learn more.