The Peaceful Runner Newsletter #41
February 11, 2014



Enjoy Runners High More Often!





Hello,
Happy Valentine's Day and welcome to our February Newsletter: Enjoy Runners High More Often!
We hope you enjoy this month's article and we hope that it helps you put an end to bad run days! 
As always, we welcome your feedback, comments and suggestions. Please add your comments below.
In this issue:
1) Quote of the Month
2) Enjoy Runner's High More Often!
3) It's Here -- Our New Guided Running Meditation!

---
Quote of the Month: 
"Remind them that a runner's high doesn't come from thinking about the end result; to a runner so affected, the end result is assured. Instead, they think only of the moment, one step, one breath, and one heartbeat at a time."
-- Mike Dooley, TUT.com
---
Enjoy Runners High More Often!
What is runners high and does it really exist? I believe that it does indeed exist and that it is totally attainable. The experience of "being in the zone" is the reason that so many runners become addicted to running long distances.
From my experience with runners high, it can only happen after about 45-50 minutes of running. That seems to be the period of time that my body needs to settle into running.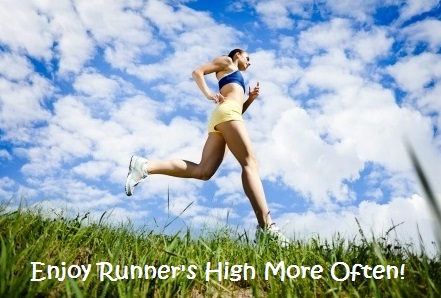 It is a feeling of euphoria and total bliss that you experience when your body feels like it is moving to a rhythm of its own and running feels effortless. Time and miles pass by easily. Everything is in sync--mind, body and soul. 
It is this experience that keeps us wanting more and more of it. It is why runners run.
However, many times runners high does not happen. It can be very frustrating for a runner when we cannot seem to reach that place of joy anymore. We cannot get in the zone or into the flow of easy running. Running has become difficult and we struggle with each step to keep going. Running stops being enjoyable. It happens to all of us (often during a race) and we just want the torture to be over. 
Bad runs like these are not only unpleasant, they increase the risk of injury. Did you ever notice how more sore your body is after a bad run as compared to after a good run? 
When running becomes an unpleasant experience, we need to get everything back in sync again. Our minds are unsettled and jumping all over the place from one thought to another, we don't know what our bodies are doing, and our soul feels disconnected and unhappy. 
We must get our mind into the present and become aware of our body and our breath. We need to focus on the present moment so we can enjoy it. We cannot enjoy each moment if we are thinking about what we will be doing later, dreaming about something that happened at home or at work, or allowing negative self-defeating thoughts to take over. 
We need to really guard our thoughts and focus on being in the now. It can take a lot of effort and some runs will require more effort than other runs, but when we experience the easy flow of effortless running and everything is in sync, it is well worth the effort. 
Here are some tips to help you enjoy runners high more often:
Focus on your breath--this is the most common approach to becoming present in the moment. Your breath has its own rhythm. Use it to stay focused. Follow it as it moves in and out of your body. Notice where you feel it most.
Use your senses--pick one of your senses and place your focus on what it is experiencing right now. What do your hear as you run along, i.e. wind blowing, water moving, your steps, dogs barking, birds chirping? What sensations do you feel on your skin, i.e. wind, rain, touch of your clothes, cool air, hot sun? What do your eyes see, i.e. trees, grass, snow, people, trail ahead? You can use your sense of smell if there are smells present. If you need fuel up while running, you can focus on your sense of taste.
Run in nature--try to run in a natural setting for at least part of your run. If you live in the city, perhaps you can include a city park as part of your run. It is much easier to feel connected to your surrounding when you are running in nature and you are surrounded by living things.
Practice Inner Body Awareness while running. When I want to feel more connected, I place my focus in the area of my heart and chest. I experience the most intense sense of joy, energy and aliveness in that area. This practice is very effective for me. Maybe it will be for you too. 
So let's put an end to bad run days and enjoy runners high more often. Let's be kind and gentle to ourselves, stay present to the moment (let go of the end result) and enjoy each and every step of our journey.
How often do you experience runners high? It is difficult for you or does it happen quite easily? Please share your experiences with us in the Comments Section at the bottom of this page.
You may also be interested in this article:
Give Yourself the Gift of Runners High


---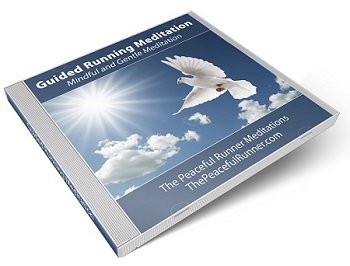 Instant download
100% money back guarantee
This guided running meditation was designed to help you run with less impact, improve your breathing, overcome tiredness, improve mindfulness, reduce injuries, improve your ability to stay in the present moment and strengthen your mind and body connection.
Take advantage of this low price and get instant access so you can enjoy the benefits of running and meditating today.
Mindful and Gentle Guided Running Meditation
---
Until next month, keep running and stay safe, happy and peaceful!
Jackie 
Return to How to Prevent Running Injuries
Back to Top of Runners High


---
If you have enjoyed this newsletter and would like to have it delivered to your Inbox monthly, you can subscribe here.
You can also:  
Like Us on Facebook

Follow Us on Twitter
Or share this page and/or add your comments below:


Our Running Form Template Can Help You Run More Efficiently!
Instant download!
FTC Disclosure: As an Amazon Associate, I earn from qualifying  purchases.
Learn more.


NEW FEATURE - DISQUS COMMENTS!
Be the first to comment.
Login using Facebook, Twitter, Google or Disqus.