A Rude Affirmation for Running that
Really Works!
February 2020--The Peaceful Runner Newsletter #112

Dear Friend,
We hope your new year is off to a good start and you are enjoying energetic and injury free running! This month's newsletter introduces an unusual affirmation for running to inspire you to run your best always! 
If you find this information helpful and think it may be of interest to others, please be kind and share it!
---
A Rude Affirmation for Running
---

The term: 'rude affirmation' could be an oxymoron as affirmations are positive statements that are used to help us feel good about ourselves or to change an undesirable belief. 
However, sometimes desperate situations call for desperate measures. This is the situation I found myself in recently during a difficult cross-country race.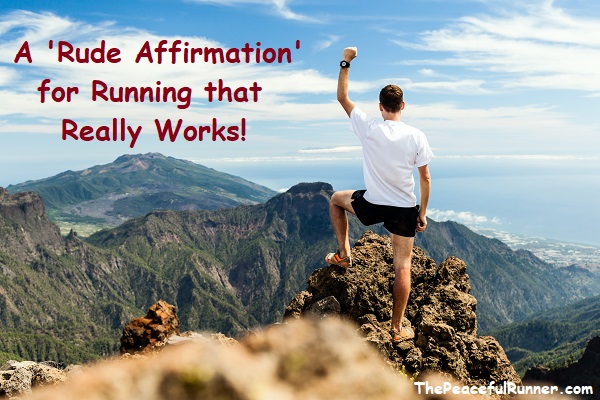 This situation occurred during a 10km cross-country race that was very hilly and very muddy. I wasn't familiar with the route but I had heard that parts of it were difficult. Much of it was uphill and during a particularly hard part of the course, I realized that I had to do two laps of this horrible uphill, muddy section. 
My mind instantly decided it did not want to do this twice. Heck, I did not want to do it even once. The thoughts in my head were: "I do not want to do this; I do not want to do this!" 
And guess what? My body was agreeing wholeheartedly.  I was slowing down and I wanted to stop. I realized that if this train of thought continues, I was going to be miserable for the rest of the race and I certainly would not have a decent finishing time. I had to do something to change my mental state and quickly!

Click below to Read the Full Article and try this 'rude affirmation' for yourself ...


Until next month, be happy, healthy and keep running!
With love and blessings,
Jackie ♥

Back to Top of Feldenkrais for Runners

---
Have you enjoyed this month's issue of our newsletter?  If you would like to have each new issue delivered directly to your Inbox, subscribe here.
You can also:  
Previous Issues of The Peaceful Runner Newsletter