Mantras for Running



July 2019--

The Peaceful Runner Newsletter #105

Dear Friend, radically transform running
We hope you are healthy and running injury free! And we hope this month's newsletter inspires you to try Mantras for Running as they are so powerful!
If you find this information helpful and think it may be of interest to others, please be kind and share it!


---
Mantras for Running
---
Mantras for running can help you stay strong both mentally and physically while running. They have a similar function to affirmations as they are both beneficial but they have different purposes. An affirmation helps to change beliefs about oneself. They help us to build confidence and self-esteem and to achieve specific goals. 
A mantra has the ability to move energy and it usually has a sacred origin. "Mantra" is a Sanskrit word which is translated in English as "instrument for thinking."  Mantras are traditionally used in meditation but can certainly be beneficial when used while running.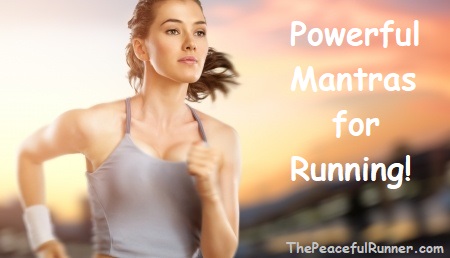 A mantra creates a point of focus and can help clear away negative thoughts and attachments. They have the ability to release stored energy from cells and can touch a deep spiritual place within. Mantras can help us recognize our divine nature. 
Sanskrit words are often used as mantras so their effectiveness is not based on understanding the meaning of the chosen word or words. They have an ability to change frequencies in the body through sound waves even if they are not spoken aloud. They are often used in conjunction with the breath--first part spoken on the inhale, second part on the exhale.

Read on to learn more about mantras for running and ones that you can use while running...




Until next month, be happy, healthy and keep running!
With love and blessings,
Jackie ♥

Back to Top of Mantras for Running

---
Have you enjoyed this month's issue of our newsletter?  If you would like to have each new issue delivered directly to your Inbox, subscribe here.
You can also:  
Previous Issues of The Peaceful Runner Newsletter