A Mantra for Peaceful Running




August 2017--

The Peaceful Runner Newsletter #83

---
A Mantra for Peaceful Running
---
Dear Friend,   A Mantra for Peaceful Running
We hope you enjoy this month's newsletter -- A Mantra for More Peaceful Running! If you would like to experience more peaceful running or more enjoyable runs, this Mantra practice can help!
If you find this information helpful, please be kind and share it with anyone you think it may help live or run more peacefully.


---
Enjoy More Peaceful Running
---
Would you like to experience more peaceful running or more enjoyable runs? Do some runs feel extremely difficult and others much easier? What is the underlying difference?
We often tell ourselves stories to justify why a run was particularly bad or good but at the end of the day, we have a choice. We can choose how we react to whatever it is that we are experiencing. A mantra practice can help us to choose more wisely and enjoy peaceful running more often.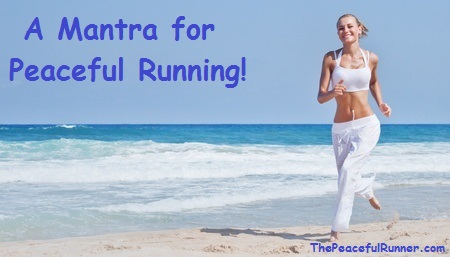 Try this next time you are not feeling peaceful while running. It doesn't matter what has taken away your peaceful state of mind. It could be that you are frustrated because your running watch has stopped working properly. You may be feeling too hot or too tired, you may have a sudden ache or pain or maybe you have a recurring health issue that is threatening your ability to run. Whatever the reason, use the mantra below to help bring about more peaceful runs.


Until next month, keep running, smiling and be happy, healthy and peaceful!
With love and peace,
Jackie


Back to Top


---
Have you enjoyed this month's issue of our newsletter?  If you would like to have each new issue delivered directly to your Inbox, subscribe here.
You can also:  
Previous Issues of The Peaceful Runner Newsletter