Inner Body Awareness Technique



April 2019--

The Peaceful Runner Newsletter #102

Dear Friend, radically transform running
We hope you are healthy and running injury free! And we hope this month's newsletter continues to help you remain injury free or recover faster if you do have an injury as you learn to use this "Inner Body Awareness Technique to Run Injury Free!" 
If you find this information helpful and think it may also help others become stronger runners, please be kind and share it!


---
Inner Body Awareness Technique
---
Use this Inner Body Awareness technique to help you run injury free by recovering faster and preventing future injuries. Inner body awareness is an amazing technique which helps us tap into the inner energy field of our body for self-healing and inner peace. 
It only takes a few minutes to learn but its beneficial effects can be experienced a lifetime! And you can practice it anywhere and anytime.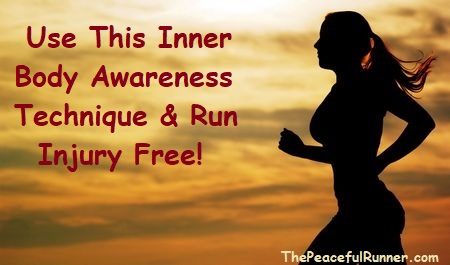 You can learn to direct your life force energy into a part of your body that needs healing, such as a running injury. When you sense your inner body awareness (your inner energy) and allow yourself to dwell in that space, you are in a state of increased presence and peace--the optimum state for healing. 
You will experience a vast sense of spaciousness and lightness. This light energy allows for healing as opposed to dense, heavy energy which exists in areas of blocked energy such as is present in the area of a running injury.
Continue reading to quickly learn how to do this amazing technique....


Until next month, be happy, healthy and keep running!
With love and blessings,
Jackie ♥

Back to Top of Inner Body Awareness Technique

---
Have you enjoyed this month's issue of our newsletter?  If you would like to have each new issue delivered directly to your Inbox, subscribe here.
You can also:  
Previous Issues of The Peaceful Runner Newsletter
If you like this page, please share it below or add your comments.