Hill Training Programs Are
Essential to Runners




February 2017--

The Peaceful Runner Newsletter #77

---
Hill Training is Essential to Runners
---
Dear Friend,
We hope you enjoy this month's newsletter -- Why HIll Training Programs are Essential to Runners. Most runners detest hill training. However, once they realize how quickly hills can improve running performance, they begin to see hills as their best training partner!
If you find this information helpful, please be kind and share it with your running friends.


---
Hill Training
---
Hill training is the most efficient way to build running strength. It is low-impact training with minimal stress on the joints and minimal risk of running injuries. Yet, it helps runners develop strength and speed in a relatively short period of time.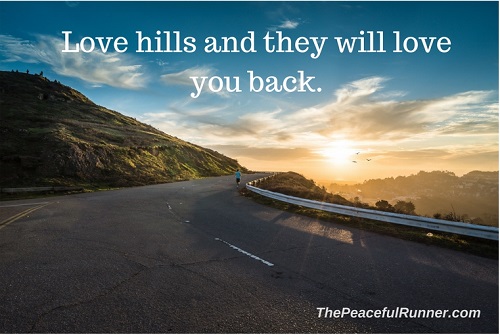 Hill running has similar benefits as speed work but without the high impact and risk of running injuries that come with speed training. Hill running enhances knee lift and naturally increases your heart rate. It provides variety and intensity as it improves endurance, speed, strength and develops muscle fibers.



Until next month, keep running, smiling and be happy, healthy and peaceful!
With love and peace,
Jackie
Back to Top


---
Have you enjoyed this month's issue of our newsletter?  If you would like to have each new issue delivered directly to your Inbox, subscribe here.
You can also:  
Previous Issues of The Peaceful Runner Newsletter