Feldenkrais for Runners:
Improve How You Move

January 2020--The Peaceful Runner Newsletter #111

Dear Friend,
Happy New Year! It is not just the beginning of a new year, but the start of a whole new decade. We hope that this is the beginning of the best of the best for you in all areas of your life!
This month's newsletter introduces The Feldenkrais Method and how it can enhance your running in numerous ways including improved performance and preventing injuries! 
If you find this information helpful and think it may be of interest to others, please be kind and share it!
---
Feldenkrais for Runners
---
The Feldenkrais Method is a technique that helps us re-learn how to move with ease and without pain. Running places a tremendous amount of stress on our bodies due to its extremely repetitive movements. Feldenkrais helps runners by helping us develop awareness of how we move. Through this awareness our range of motion increases and we move more efficiently and without pain. 
The appreciation of the benefits of Feldenkrais for runners is steadily increasing. It is an educational method that not only focuses on movement but on learning how movements of the body are all connected. From this holistic perspective, runners can experience relief from muscle pain, improved performance, more efficient breathing and increased vitality.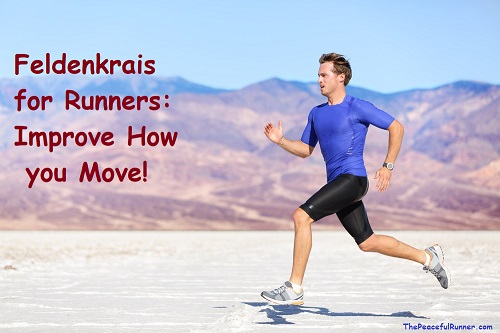 Awareness of movement is a powerful aspect of practicing the Feldenkrais Method. This knowledge can be extremely beneficial to runners. Running involves the repetition of the same movement over and over. If we are unaware of how we are moving while running, it can have detrimental effects on our bodies and can greatly limit our mobility. This can change immensely when we learn how to run with the whole body,

Click below to Read the Full Article and learn a Feldenkrais exercise that you can do right now ...


Until next month, be happy, healthy and keep running!
With love and blessings,
Jackie ♥

Back to Top of Feldenkrais for Runners

---
Have you enjoyed this month's issue of our newsletter?  If you would like to have each new issue delivered directly to your Inbox, subscribe here.
You can also:  
Previous Issues of The Peaceful Runner Newsletter