Why Downhill Training is
Essential for Runners




March 2017--

The Peaceful Runner Newsletter #78

---
Downhill Training
---
Dear Friend,
We hope you enjoy this month's newsletter -- Why DownhIll Training is Essential for Runners.
Practicing downhill running is often overlooked by runners because it feels so easy. However, if done properly, it can provide great benefits and prevent serious long term damage.
If you find this information helpful, please be kind and share it with your running friends.


---
Running Downhill
---
Running downhill can make you sore and tired because of the stress placed on your quads and the tendons and ligaments in the ankles, knees and lower legs. On the other hand, it stimulates muscle growth and builds strength making you a stronger runner.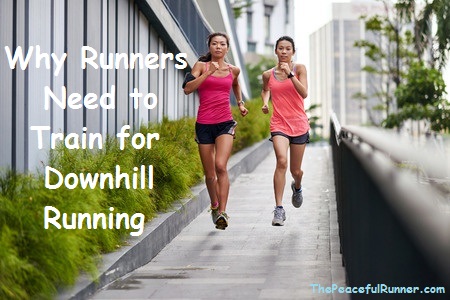 If you are going to be running downhill for a long distance and you haven't properly trained for it, you could experience significant damage to your muscle fibers. You may also experience fatigue and pain and then delayed-onset muscle soreness (DOMS) in the days that follow. Many marathoners have suffered from DOMS when they haven't properly trained for races that include a lot of running down hills such as the Boston Marathon. 
To gain the benefits of running downhill and to protect yourself from muscle damage, you need to practice running down hills. Downhill running is an unusual movement that cannot be duplicated. Running or walking downstairs is not the same movement so you need to find a hill and practice running down it.




Until next month, keep running, smiling and be happy, healthy and peaceful!
With love and peace,
Jackie
Back to Top


---
Have you enjoyed this month's issue of our newsletter?  If you would like to have each new issue delivered directly to your Inbox, subscribe here.
You can also:  
Previous Issues of The Peaceful Runner Newsletter